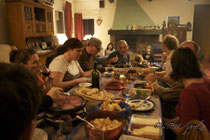 It's a momentous assignment, my first blog.  With so many topics to choose, which would make the maiden voyage?  What will set the tone, and brighten the world wide web?

     Our conversation yesterday, on dreams, was interesting and fun.  Adam told us about how he was riding his bike and crashed, then realized that he was right in front of a cycle shop.  I'd dreamed that I was on an art tour of New York City and got a fantastically foreshortened view of the Statue of Liberty through the sunroof of our bus, then observed an architectural work in progress that resembled Gaudi's Sagrada Familia.  Could I reproduce my dream work and create a new sensation?
    ICCP staff meetings are often like that.  We stay quite busy during the week, so we make the most of our time to reconnect and enjoy each other before we get down to business.  Not that we don't enjoy each other during the action points, but we do try our best to stick to the tasks at hand.  We've had too many of those super-fun and pointless meetings that left us disorganized and set the stage for certain calamity. 

    It was our first kids' camp planning meeting of the year, and we needed a good 2-hours to get through the list.  First on the agenda was a choice of theme.  We narrowed it down fairly quickly—depending who you're asking—and agreed that adventure and super-heroes both have their strong points.  We finally chose to explore the life in Christ, with all the battles and victory that comes with the pursuit of the prize; sort of a realistic version of Indian Jones.

    Lest we overlook the importance of the super-hero theme, there's an interesting tie-in to our story.  The strength of the argument was that we were created for something more than the daily grind.  We want everyone to be able to know their own unique gifts and to be aware of their personal weaknesses, and to look at Jesus' life as the ultimate super-power.

    Marianne Williamson is quoted as saying, "our deepest fear is not that we are inadequate.  Our deepest fear is that we are powerful beyond measure.  It is our light, not our darkness, that most frightens us.  We ask ourselves, 'who am I to be brilliant, gorgeous, talented and fabulous?'  Actually, who are we not to be?  You are a child of God.  Your playing small doesn't serve the world.  There's nothing enlightened about shrinking so that other people won't feel insecure around you.  We were born to manifest the glory of God that is within us….And as we let our own light shine, we unconsciously give other people permission to do the same.  As we are liberated from own fear, our presence automatically liberates others."

    Consider that a challenge!