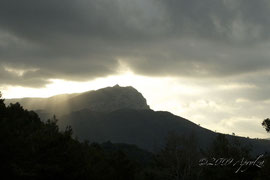 Growing up in York County, PA, we knew what day it was when the school cafeteria served a doughnut at lunch.  Fastnacht Day was the big bang before the austerity of Lent. That's when the table discussion often turned to, "so, what are you giving up?"

    Here in France, the fasting also begins on Ash Wednesday.  It seemed baffling to me that instead of giving up this marvelous pastry, we were invited to each nothing but crêpes and other bread products.  It hadn't realized that my indoctrination in 'the land of plenty' had so changed my perceptions.

    Not too many generations before ours, people lived through the challenge of trying to survive another winter.  The lengthening days brought increased hope, while the rapidly depleting larder served its daily reminder of the nearness of death.  The last of the preserved meats were served up at the 'Fat Tuesday' feast before they became inedible, and the devout would hope to fill their empty stomachs with spiritual bread in the days to come.

    Jesus took 40 days of solitude before He began His ministry.  Time alone with God was a practice that followed in the footsteps of Moses and Elijah.  It rained on Noah for 40 days and nights, and the people of Nineveh had 40 days to change their ways.  It's not ironic that it takes 40 days for a practice to become a habit.

    As the current economic trends have created a new austerity, it seems the right time to take a serious look at one's habits of consumption.  The coffers are empty; are we starving at the feast?  When we are confused about what we really need, then we go looking for substitute fillers.  The spirit becomes malnourished, fat and miserable.

    It's time for pure, authentic nourishment.

    Jesus said, "I am the living water.  He who comes to Me shall never thirst."  John 4:14; 7:37-38

    Those are mighty big words when you don't know where the next paycheck is coming from.  The blue sky, children's laughter, the smiling stranger who held the door for you; these are precious gifts for the moment. Do they really make a difference?

    Creation is born in expansion, so we must logically believe in an all-sufficient supply.  How then, to celebrate this abundance?

    Do I deserve it?  What does my Creator think? 

    What did Jesus mean when He said, "deny yourself?" 

    How can I deny my Self--these mixed-up needs of ME?  Because the trials of the day reveal my weaknesses, therefore, my best defense is to know my true self.  In this way, I learn to discern my true needs from my donuts. 

    What is pure luxury to you?  Set aside your aspirations, and think about what you would love to do for carefree fun?  Do you feel threatened by the thought of spoiling yourself?  What if pure luxury is simplicity?  Imagine the refreshing freedom from stuff.

    The journal is a perfect place to contemplate.  What habit is tying you down, keeping you out-of-shape, malnourishing your spirit?  Now, think backwards to what situations drive you into your habit.  Identify the factors that make you react in a way other than which you'd like.  Brainstorm into your journal about other ways you could respond.  Go ahead, the journal is for your eyes only, get silly, get angry, get serious! 

    Okay, you've got 40 days to prayerfully discern and develop a better way.  Remember that you don't start a new habit, so much as you replace the ineffective ones.   It's not so much about what you give up as how you choose to fill yourself.

    We have much for which to be thankful!

Pennsylvania Dutch Fastnachts
Boil until tender:
200 g peeled potatoes
Drain, reserving 250 ml (1 C) potato stock
* Okay, so use 1 C mashed potatoes & 1 C flavored broth

Let cool. Meanwhile, combine:
250 ml (1 C) lukewarm milk
1/2 C suet or butter
1/2 C sugar
1 t salt

Add potato stock (your broth) and:
1 T (1 pkg instant) dried yeast
Cover; let stand overnight... or from 1hr-12 or so hrs.

Mash potatoes (if you haven't already); mix in yeast liquid and:
2 eggs
about 500 g (2 C) flour
Knead until smooth, working in more flour as needed so it's not too sticky, about 5 minutes.
Let rise until almost doubled, about 2hours--you can set your oven to 50°C (100°F) then turn off the oven before you put in the bowl of dough to rise.

Roll to 3/4"-thick. Cut into fastnachts (square doughnuts) Twist them in to knots if a Dutchie taught you how.
Let rise until doubled, 30-45 minutes.

Fry in 190ºC (375ºF) deep fat until golden.
Drain well; sprinkle with powdered sugar.
They are fantastic with lemon curd, but that's British, so avoid it if it seems too Yankee.
And for today's YouTube clip, I really wasn't impressed with any of the 'Lent' offerings.  So, here's a man named Lent who's living it up...