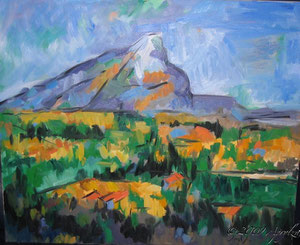 When I joined Jacques Letrosne's studio in October 2003, I asked for an education in les Beaux Arts—the Fine Arts—everything that I'd missed from my well-rounded Bachelors of Arts in Fashion Merchandising.  It sounded like a simple enough request to me….
    As I worked at trying to recreate the weekly still life, he would gently correct my perspective and suggest points to consider.  Typical to a French education, one must know what to ask in order to reach an answer.  How different from the American I teach/you learn method!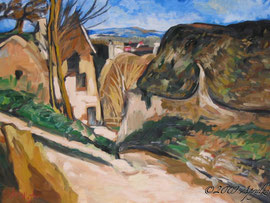 Jacques would often pull a massive book about a particular artist or period from his shelf, and challenge me to work with it.  Copying seemed anything but artistic…until I took up the challenge. 

    Working from a masterwork has been common practice for artists for centuries.  One learns far more than anticipated.
Likewise, I'm very much looking forward to the upcoming Picasso-Cézanne expo here at the Musée Granet this summer.  (Already more than 50 000 tickets have been sold!)
Here's a sample from the upcoming AprylZA-Cézanne expo in the eventual future.
    I followed les leçons de Peinture de Cézanne by Erik Levesque, 2006: Oskarson, Paris; ISBN 2-35000-062-1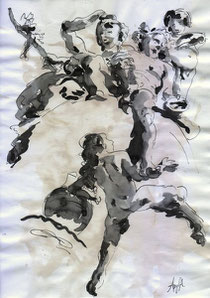 This week on ebay, you'll find another one of masterwork studies, les 2 Bacchantes après Giovani Battista Tiepolo.  It's pen & ink wash on white paper. 
I really like drawing with a quill pen.  Modern writing instruments do not come close to those sharp, but fluid, lines that are only possible with a sharp metal nib.  Also, I'm grateful for the Chinese calligraphic brush painting that I learned in Korea. I was fed-up with doing one bamboo after another, but now I'm glad I ate my vegetables!