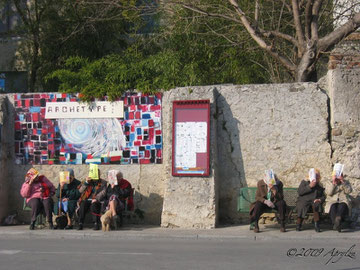 I'm just back from Allauch.  That is not what I expected to be doing this morning.  It was going to be a simple matter of taking my entry in a photography contest straight to the local post office, and letting them do the rest.

    Or so I had hoped.  The rules of entry sheet had shifted to the back of my extensive 'to do' pile, and the 20th April deadline slipped in faster than I'd anticipated.  Allauch isn't far away, and if the French postal service isn't on strike, it's an impressive force.

    Alas, the 33euro fee for delivery by Chronopost was more than I reckoned.  Even the postmistress was full of apologies—which hardly seemed necessary, considering that I'm the one with deadline problems.

    With spring in the air and jaunty tunes on the iPod, I took to the route.  The backroad to Fuveau-Aubagne is usually a pleasure.  It parallels the highway to Toulon, taking you through centuries-old towns.  Because of the relatively short distance, there isn't much time lost. 

    For those of you in training for the Tour de France, the D-908 will be a highlight.  The wide two-lane road has generous brand-spanking-new bike lanes on either side, and the packs of cyclists moving uphill and down seemed pretty contented despite their exertions.  The hairpin turns are quite thrilling for one and all!

    And so, in the midst of courteous drivers and obnoxiously self-involved ones, almond-blossom time on country roads and traffic jams in the Zone Industrial of Marseille, time wasted in an attempt at prize money and time invested in exploring the world, here's appropriate ancient Hebrew poetry to celebrate my morning…
   
God, you will be praised in Zion.
       We will keep our promises to You.
You hear our prayers.
       All people will come to You.
Our guilt overwhelms us,
       but You forgive our sins.
Happy are the people you choose and invite to stay in Your court.
    We are filled with good things in your house, Your holy Temple.

You answer us in amazing ways, God our Savior.
    People everywhere on the earth and beyond the sea trust you.
You made the mountains by your strength;
       You are dressed in power.
You stopped the roaring seas, the roaring waves,
    and the uproar of the nations.
Even those people at the ends of the earth fear Your miracles.
       You are praised from where the sun rises to where it sets.

You take care of the land and water it; You make it very fertile.
    The rivers of God are full of water.
    Grain grows because you make it grow.
You send rain to the plowed fields;
    You fill the rows with water.
You soften the ground with rain, and then you bless it with crops.
You give the year a good harvest,
    and You load the wagons with many crops.
The desert is covered with grass and the hills with happiness.
The pastures are full of flocks, and the valleys are covered with grain.
       Everything shouts and sings for joy.
                Psalm 65:  A Hymn of Thanksgiving (NCV)