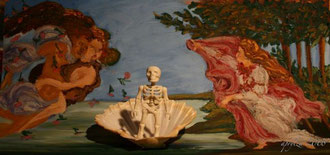 It was in the spring of 2005 when I was working through Julia Cameron's the Artist's Way and conducting a women's Bible study following John Eldredge's Waking the Dead, that I realized there was more going on than meets the eye.  When our church staff team did a timeline exercise that coincided with my other personal discoveries, I finally started paying attention.
A record harvest of truth and ideas can be gleaned from the most unexpected sources when you learn to be aware, and it can alter the entire course of your life.  The workbook that I consequently compiled is the result of this evolution of divine coincidence.

In 1934, Dorothea Brande wrote, "With the best of intentions, we usually go about the formation of a new habit or the eradication of an old one in the manner most calculated to defeat our purpose.  Whenever you come across a piece of advice in these pages, I exhort you not to straighten your spine, grit your teeth, clench your fists and go at the experiments with the light of do-or-die on your countenance."  [Dorothea Brande; On Becoming A Writer; publ. 1981, Jeremy P Tarcher/ Putnam reprint of the 1934 edition publ. by Harcourt, Brace, NY; pp 61-67]
The apostle Paul was making the same complaint in his letter to the Romans (7:14-20), "I do not understand what I do.  For what I want to do I do not do, but what I hate I do…. For I have the desire to do what is good, but I cannot carry it out. For what I do is not the good I want to do; no, the evil I do not want to do—this I keep on doing."
Brande explains it this way,  "We customarily expend enough energy in carrying out any simple action to bring about a result three times greater than the one we have in view.  This is true from the simplest matters to the most complex and of physical effort as well as mental.  If we climb the stairs, we climb them with every muscle and organ laboring as though our soul's salvation were to be found on the top step, and the result is that we grow resentful at the disproportionate returns we receive from our expended energy.  Or, putting a great deal more energy out than we can use, we must take it up, somehow, in purposeless motion."  The physical, mental and emotional strain of life change will cause a seasickness that send us reeling back to familiar shore.  She uses the examples of "pushing a door that looked closed with more vigor than was necessary and of falling into the next room as a consequence.  Or we have picked up some light object that looked deceptively heavy.  If you notice yourself on such an occasion, you will see that you must make a slight backward motion merely to retrieve your balance."
Therefore, any lasting change must be gradual.  Transformation is brought about by inspiration and internal motivation.  But Brande reminds us "this is not a plea to abandon the will.  There will be times and occasions when only the whole weight of the will brought to bear on the matter in hand will prove effective."  Those are the times when we must summon our strength to flee temptation lest we fall. [1 Corinthians 10:13]

"Nature herself appointed that nothing great is to be accomplished quickly, and has ordained that difficulty should precede every work of excellence."  Anon.

Brande adds one more piece of advice that is timelessly relevant, "The Right Frame of Mind:  So, then, in doing the exercises in this study, turn yourself gently, in a relaxed and pleasant frame of mind, in the direction you want to go.  See yourself, for a few minutes, doing the recommended experiment.  After you have had a few successes by this method, you will find that it is capable of infinite extension.  Consider that all the minor inconveniences and interruptions of habits are to the end of making a full and effective life for you.  Forget or ignore for a while all the difficulties you have let yourself dwell upon too often; refuse to consider, in your period of training, the possibility of failure.  You are not at this stage of your career in any position to estimate your chances justly.  Things that look difficult or impossible to you now will be seen in truer perspective when you have gone a little further.  Later you can take an inventory of yourself from time to time, see what is easy for you and what you do badly or imperfectly.  You can consider then what steps to take to correct these definite faults, and by that time you will be able to work on yourself profitably, without discouragement or bravado."

"You are young, my son, and as the years go by, time will change and even reverse many of your present opinions.  Refrain therefore awhile from setting yourself up as a judge of the highest matters."  Plato

"No one sews a patch of unshrunk cloth on an old garment, for the patch will pull away from the garment, making the tear worse.  Neither do men pour new wine into old wineskins.  If they do, the skins will burst, the wine will run out and the wineskins will be ruined.  No, they pour new wine into new wineskins, and both are preserved."  Jesus, (Matthew 9:16-17)

Figuratively speaking, sorting out the truth from the trash has been a full-emersion baptism into the living water.  I'm alternatively drowning, swimming and walking on water, and I'm in no longer rushing for the shoreline!  It's become a way of life, and I love it.  C'mon in, the water's fine!

Take a moment to look around you.  Is there a task that you've set aside…or several?  Are there any that you only do out of habit or expectation?  Can you share the task or delegate it?  Are your children at an age when they can be taught these "character-building experiences?"  Can you ask for, or buy help?  Yes, sometimes time is money.  You are more valuable than you realize.  Now, which task can you do in 60-seconds or less?  Do it now.  Doesn't that feel good?