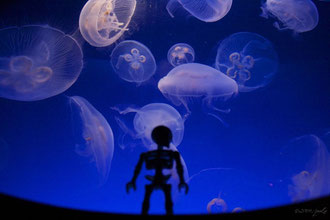 Antoine de Saint-Exupery is best known as the author of The Little Prince.  The timeless quality of this beauty & the beast tale is one small evidence of this man's life.   His observations are recorded in books such as Wind, Sand and Stars [1967 translation by Lewis Galantiere; Harcourt Inc, Orlando FL], and as he flew over storms and wars, Saint-Exupery saw far more than the landscape. 
For instance,

    "There are two hundred million men in Europe whose existence has no meaning and who yearn to come alive.  Industry has torn them from the idiom of their peasant lineage and has locked them up in those enormous ghettos that are like railway yards heaped with blackened trucks.  Out of the depths of their slums these men yearn to be awakened.  There are others, caught in the wheels of a thousand trades, who are forbidden to share in the joys of Mermoz, to a priest, to a man of science.  Once it was believed that to bring these creatures to manhood it was enough to feed them, clothe them, and look to their everyday needs; but we see now that the result of this has been to turn out petty shopkeepers, village politicians, hollow technicians devoid of an inner life.  Some indeed were well taught, but no one troubled to cultivate any of them.  People who believe that culture consists in the capacity to remember formulae have a paltry notion of what it is.  Of course any science student can tell us more about Nature and her laws than can Descartes or Newton, but what can he tell us about the human spirit?

    "With more or less awareness, all men feel the need to come alive.  But most of the methods suggested for bringing this about are snares and delusions.  Men can of course be stirred into life by being dressed up in uniforms and made to blare out chants of war.  It must be confessed that this is one way for men to break bread with comrades and to find what they are seeking, which is a sense of something universal, or self-fulfillment.  But of this bread men die."
Throughout history individuals devoted their lives to the search for more.  The most controversial man of all-time started His public life this way,     "Jesus returned to Galilee in the power of the Spirit, and news about Him spread through the whole countryside.  He taught in their synagogues, and everyone praised Him.
    "He went to Nazareth, where He had been brought up, and on the Sabbath day He went into the synagogue, as was His custom.  And He stood up to read.  The scroll of the prophet Isaiah was handed to Him.  Unrolling it, He found the place where it is written:
    'The Spirit of the LORD is on me,
    because He has anointed* me to preach good news to the poor.
He has sent me to proclaim freedom for the prisoners
    And recovery of sight for the blind,
    To release the oppressed,
    To proclaim the year of the LORD's favor.'"     (Luke 4:14-18)

This was the first time that Rabbi Jeshua spoke in his hometown, and he really ruffled some feathers.  It's interesting to note that about 20 years later, His brother, James, spoke so vehemently concerning the tongue (James 3:1-12).
Jesus went on to explain that the words of the prophet Isaiah that He'd read were being fulfilled in their hearing.  Their pleasure turned to fury as local Joseph's bastard son suddenly challenged their comfortable religious rules of order.  Didn't God make it so, and it's the duty of the holy ones to maintain the status quo?  Small town gossip  isn't very forgiving or quickly forgotten.
This is quite a loaded passage.  Read by itself, it's all very happily-ever-after.  But if we acknowledge that Jesus said He was responsible for the truth of these words, then He's making some pretty big claims.  What does this mean for religious 'righteousness'?  What makes a so-called "Saved" person behave any differently than any other well-intentioned individual?
What did Jesus mean about 'good news'?  Who are the prisoners, the blind, and the oppressed?  Has anyone ever challenged and encouraged you this way?  Where is the condemnation?  Could this be the year that the LORD favors you?
What if there's a bigger reality, one that exceeds the boundaries of time and space, and you're hearing the call to join in the adventure?  What does God have to do with it?  And if He is responsible, then what benefit have I got that's better than good intentions?  React on your journal pages.

"Man is born to live, not to prepare for life."  Boris Pasternak (Doctor Zhivago (1958) pt 2, ch 9, sect 14)

* anoint, v. smear or rub with oil, especially as part of a religious ceremony; ceremonially confer office (on a priest or monarch) by anointing.  [This ancient practice has continued through the health-giving properties of essential oils.]