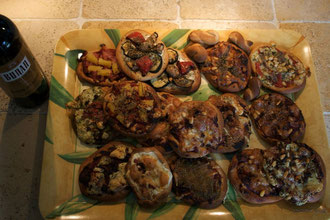 Another magical transformation of leftovers into gourmet Mustgoes…
Soften*:
    250 ml (1 C) lukewarm water 
    1 t honey
    8 g (2 t) dried yeast

*This means to prepare your water as you would for a baby's bath—not too hot and not too cold; add the honey and then the yeast.  Let it repose for a couple of minutes as you prepare the dry ingredients.  When you return your attentions to it, you'll see that the yeast has "flowered".  That means it's alive & active, so your bread will rise.  If you don't notice any change, then your yeast is old and you'll want to discard it.  Use 2 t baking powder instead, and don't let it go through the rising process before you bake your dough.

Combine:
    400 g white flour 
    1 t salt
Add yeast liquid and:
    3 T olive oil
Mix well; adding more flour as needed.  Knead until smooth.
Let it rise in a warm, draft-free place as you prepare your toppings.
For instance, sauté:
    100 g lardons or chopped bacon    ...crushed garlic
    ...sliced onion, mushrooms, piñoli or slivered almonds....
Open a jar of your homemade tomato sauce or use crème fraîche (sour cream)
Grate one type of cheese or as many as possible
Chop fresh herbs, drain the olives, crumble the feta or goat cheese

Roll out pizza to fit your pan...don't skimp on the olive oil for a better crust;
Bake 220ºC (425ºF) for 15-20 minutes.
Now, pile on the toppings, but don't over-do it or you'll end up with a soggy, undercooked crust.  Bake again to heat the toppings, 5-10 minutes, until golden.

   OR make a fried pizza:  roll dough thin and fry gently in a greased skillet, turn and cover with toppings as you cook the other side.
[You can find more recipies here.]
Bon appétit!
by
AprylZA
More
Tripe Aprons