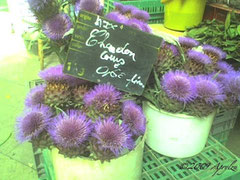 The Impressionist artist, Robert Henri wrote in the Art Spirit, "When the [creator] is alive in any person, whatever his kind of work may be, he becomes an inventive, searching, daring, self-expressing creature....  He disturbs, upsets, enlightens, and he opens ways for a better understanding.  Where those who are not [creators] are trying to close the book, he opens it, shows there are still more pages possible."
0038-le champ des Tournelsols à la Ste Victoire
by
AprylZA
See other
art
on zazzle
    French Impressionism began as a search for the effect of light on a subject.  The events that led to WWI were a distraction that turned the page to a chapter of confusion and misdirection.  Peace and comfort were no longer possible on this earth except in sugarcoated capsules.

    Therefore, I am intentionally pursuing the same qualities that whispered to the early Impressionists.  There is a tangible yet elusive connection to the eternal, and mankind is coming to terms with its inevitability.  Provence is especially potent because of its timeless respect for the fresh and natural.

    My current themes are varied with the change of seasons, but similar in their presentation of nature despite man's involvement.  Cultivated fields, forbidding castles, serene chapels, winding forest paths indicate peaceful solitude rather than lonely isolation.  As our world becomes more crowded and agitated, my response is a calm reminder of the peace that is profound and lasting.