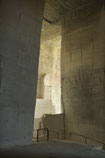 It is said that Dante was inspired to write his 'Inferno' after experiencing the Gaulic quarries of Val d'Enfer (Hell Valley).  John Cocteau and his friends were equally inspired to create the film 'le Testament d'Orphee' in 1959.  The towering cut rock facades are impressively suited to inspire a growing number of multimedia presentations.
    "Ce n'est pas Cathédrale d'Images qui s'adapte à l'image, c'est à l'image de s'adapter à ce lieu".  --Anne PLECY
    In other words, "it's not that Cathedrale des Images is adapted to these images, it's that the images are suited to this place."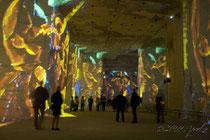 Since 1977, an annual theme is presented from the end of February until the 1st week of January.  2009 is the year of Picasso, in coordination with other events in Provence.  Please visit their excellent website for informative articles on everything from the complete explanation of the quarries to current and past productions, as well as travel details.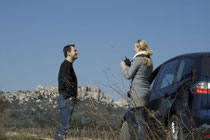 The village of Les-Baux-de-Provence is a tourist mecca, so be sure to arrive as early in the day for parking.  It is stone built upon a rock, so dress accordingly:  whatever the weather in the valley, it will be far more extreme up there.