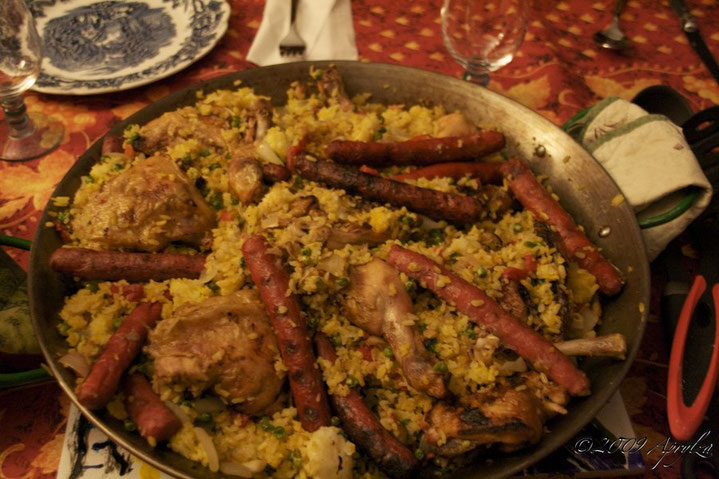 The guests are here, and they're hungry!

This is one of the Anderland favorites to feed a crew in the middle of a big work project.  It's an easy job to cook the rice ahead of time, then to heat it all up when we're ready to eat.
Cook until tender using your preferred method:
    500g (2 C) short-grain rice
    1 l (4 C) chicken stock or water
I use a generously sized lidded microwave casserole dish to MW-High for 8 minutes; then MW-Low for 7 minutes.
Separate the grains with a fork and stir in:
    pinch saffron or 2 pkg Spigol (a Provençal spice mix)

Meanwhile, grill or fry in paella pan or large skillet
    about 750g (1-2 lbs.) chicken parts
    500 g Merguez or Chorizo (1 lb. spicy sausage)
Set aside; in same pan, fry
    1 T olive oil
    1 chopped onion
    2+ crushed cloves garlic
When tender add:
    450g (2 C) mixed seafood
    225g (1 C) fresh or frozen peas
    400 g jar roasted red peppers
    1 T chopped fresh parsley
Stir-fry to heat through.  Garnish with lemon wedges and serve with harissa (or hot pepper sauce).
And a tribute to just a few of our countless helpful friends…
Hot Stuff!
by
AprylZA
More
Red Aprons