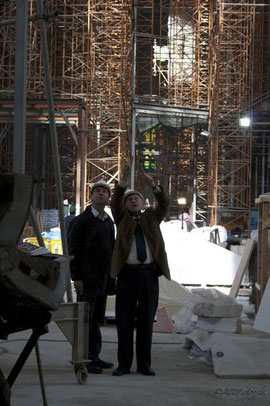 If you have the opportunity to visit Barcelona, don't forget to go to church… one in particular, although it's still under construction….

You can read about Antonio Gaudí's masterpiece at the official website of the Sagrada Familia church...
For 20 years, I've lived as an American expatriate and speculated about life for the contemporaries of these cathedrals.  How did it feel to live in the shadow of such a monumental building project, knowing that it would never reach completion during your lifetime?

And for the master craftsmen, was it an encouragement to consider that the work of their hands would outlast their names, and that their contribution was one tiny portion of a remarkable body of work?
The Sagrada Familia is now at a stage of completion where we can observe the forest canopy that Gaudi envisioned above the undergrowth of scaffolding.  As you will see in my video, I am as thrilled by the process as I am by the finished creation.  I'm grateful that we are allowed to participate as observers, and I hope it's an encouragement to the team of craftsmen-builders.