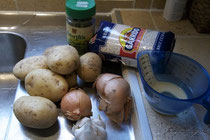 Last Sunday was damp and drizzly, and we were feeling as gloomy as the weather.  What could be better to bring the four of us back to life than chicken soup?

    Potato-Rice Stew is almost a risotto, but it doesn't need the constant attention of stirring and adding ladlefuls of broth.  It's warm and squishy and prime comfort food.  Beautiful stuff!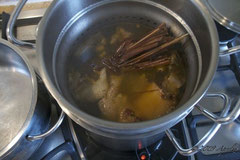 Prepare the chicken broth:  defrost the bag, open the can, dissolve the bouillion cube or miso, or boil the bones—whatever you do to get that stock hot.

I simmered a chicken carcass with dried lemon grass from my garden.  It smelled so fantastic!

This pasta cooking-pot is perfect for straining out the bits.  The chicken went into the soup, I minced the fat and that went into another batch of dog biscuits, and the bones are buried in the compost heap.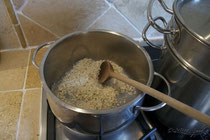 Sauté—that means to cook while stirring--in the soup pot:
    2 T olive oil                4 crushed cloves garlic
    2 chopped onions or leeks    1 t salt

The chemical reaction of the salt will make the onions 'cry' (serves 'em right, after what they did to you!).  This moisture that's pulled from the chopped veg will help to keep it from sticking to the pan, but do be careful not to have too strong of a fire going.  It's wise to have a cup of hot liquid at hand.  If your ingredients are getting too dry and likely to burn, a tablespoon or two of something wet is enough to rescue you.  Not to mention that a glass of wine is the chef's reward.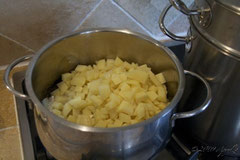 When the onions are soft and golden, stir in & sauté briefly until well-mixed:
    500g (3 C) diced potatoes
    250 g (1 C) rice

Add 1 litre (4 C) stock & heat to boiling.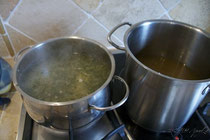 Stir; lower heat, cover & simmer gently until rice is cooked & potatoes are tender.  

Stir in:
    75g (1/3 C) grated Parmesan        S & P
    a fistful of chopped fresh parsley (or basil in the summer!)

Serve immediately.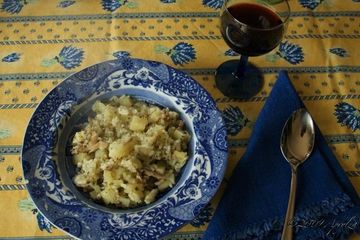 The leftovers—if you have any--are fantastic as a stuffing for tomatoes. 
Bake 200ºC until golden, about 15 min.
[More culinary delights here.]
Hot Stuff!
by
AprylZA
Design your own
personalized aprons
on Zazzle