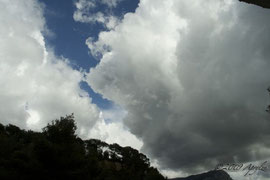 I'm on my way from the market to make my final offering for the man who changed my life. 

I thought I knew what love was, but now I see that I had confused duty and intense loyalty, and came up with something vaguely acceptable.  I'd been longing to have a safe place for my heart.  Because he let me get close enough to be in his life, I experienced the kind of love that made me want to live like that, too.

But he died for it.  The ones whose lives could've been so changed felt threatened by him.  He refused to let them tell him how he ought to live, so they had him destroyed.

I only hope that he really has gone to a better place.  He really believed in it, and he wanted us to come, too.  There were times, as he was talking about this kingdom of everything that's good, that my thoughts went there, too.  I longed to be in a place where nobody felt the need to set each other straight.  I could imagine us talking and laughing together, and making new discoveries and absolutely delighting in the wonders that surrounded us.

This morning, I breathed in the embalming spices mixed with the chilly morning dew, and I wished that it didn't have to end this way.  The new day was dawning, and after these preparations, I'd go sit the shivah with his mother.  That's when I might really let myself have a good cry.  Only that I'm afraid that I'll never stop.  I'll miss him so much!

At some point, we'll have to get back to our lives.  How long will I be able to tolerate what people will do to me?  Is there anybody else who can encourage me to go on?  Will I keep making the same mistakes?

An earth tremor snapped me out of my thoughts.  I was just reaching the tomb at that moment, just as the rock that was blocking the entrance was being rolled away!  There was a blinding light as the sun burst over the horizon, and that was made even more brilliant because there was an angel sitting on the rock!  This wasn't like the spirits who used to torment me only three years ago. 

The guards hadn't known that.  They passed out immediately.  I'd been wondering what kind of trouble to expect from them, and there they were in a dead faint.  I knew how my obvious relief would have made Jesus laugh, and I was happy and sad all over again.

This angel was from the LORD!  I could feel a contagious love rolling off of him, and I longed to be overcome.  I was filled with wonder, and terrified, at the same time, I wanted to leap and dance, too.  He told us to believe our eyes, it's happened just like He said it would!  I didn't understand it, but like everything else that Jesus said, it was so much bigger than I thought. 

And now, He says that we're supposed to gather up our friends to meet Him in Galilee.  What does this mean?