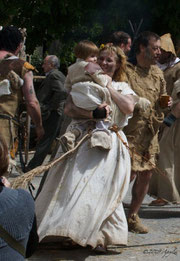 I love an excuse for doing active research, so last year's kids' camp theme had us seeking the knights of AIXcalibur.  That's how we stumbled into 1450, the fabulous year of Good King Roi Réné in Provence.

The good citizens of Peyrolles-en-Provence host an annual medieval festival, and it's a rollicking good time!  They have an excellent website (in French), so here's a brief overview of this year's schedule: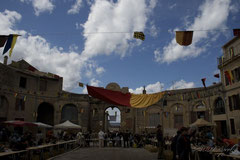 Saturday, 18 April 2009
11am things get rolling; vendors present their medieval wares from swords to calissons
12h30 a yummy medieval lunch
14h00 Spectacles of all kinds
15h30 a special presentation by the knights "les Cavaliers Voltigers"
19h30 Grand Banquet Medieval:  a roast bull with side dishes, cheese & dessert for 22euros adults, 12 euros children under 12yrs—RSVP to the tourist office 0442 51 89 82

Sunday, 19 April
11am parade & presentations
12h30 tasty medieval meals
14h00 specatacles
16h00 a mass battle (mind your head!)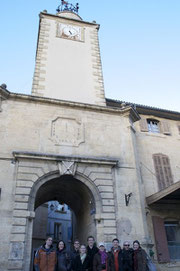 Peyrolles is a picturesque village no matter what time of year you're passing through.  The castle and chapel St Sepulcre, and the church of St Peter date back to the 12th century.

There is more information on the official website or an excellent Wikipedea article, both in French.  I need to see the grotto for myself!