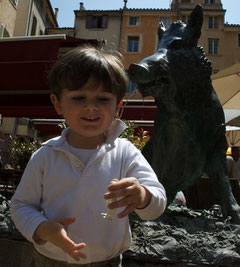 "After a while, the accumulation of event after even that we do not like and do not understand erodes our confidence that we are part of something grand and good, and reduces us to a survivalist mindset."  John Eldredge, Waking the Dead

"You make a commitment, and that commitment will make you."

"Therefore we do not lose heart.  Though outwardly we are wasting away, yet inwardly we are being renewed day by day.  For our light and momentary troubles are achieving for us an eternal glory that far outweighs them all.  So we fix our eyes not on what is seen, but on what is unseen.  For what is seen is temporary, but what is unseen is eternal."  2nd letter to the Corinthians 4:16-18

    Think about the times when you've experienced profound grief…  Intense pain… Sleep deprivation, or hunger so intense that you can't think straight?  What happens to your 'reality'?
    This altered reality happened to several million people who'd just witnessed the stunning power of God in action.  The tribe of Jacob had just been freed from brutal slavery in Egypt.  Their exodus required marching forward despite their fears. [Exodus 14] YHWH made them go the long way round because He knew the reality of their hearts. [Ex 13:17]
    Be prepared to question.  Ask (knock).  Seek answers.  Whatever it is, YHWH can handle it.  Don't be afraid you might insult Him … or that His answers might insult you!  He really does love you more than that.  He promises to open the door.  [Matthew's gospel 7:8]
    Skip the religious labels you grew up with.  You are allowed to ask the difficult questions.  Nor are you required to believe society's answers.

"For nothing worth proving can be proven
Nor yet disproven:  Wherefore thou be wise,
Cleave ever to the sunnier side of Doubt."  Alfred Lord Tennyson

"True atheists do not, I presume, feel disappointment in God.  They expect nothing and receive nothing.  But those who commit their lives to God, no matter what, instinctively expect something in return.  Are those expectations wrong?"
        Philip Yancey, Disappointment with God

What is it about God that troubles you?  Go ahead and name it.  Ask Him about it, He doesn't mind.  If you don't believe me, read the book of Job.  And remember, it is chronologically one of the first documents of the Old Testament, written before the Laws and the Psalms.  Job was going on his intuition about God more than his upbringing!
    Recall one horror story about your childhood God.  Write, sketch, recall everything you can.  Is there part of Him that just doesn't make sense?  Share it with Him.  It's okay.

"In the beginning was the Word, and the Word was with God, and the Word was God.  He was with God in the beginning.
    "Through Him all things were made; without Him nothing was made that has been made.  In Him was life, and that life was the light of men.  The light shines in the darkness, but the darkness has not understood."  John 1:1-5

Bring your questions and doubts into the light of truth.
    To be independent, depend on God.  What we believe YHWH IS reveals much about our willingness to draw close to Him.  Oswald Chambers once said that the root of all sin is the suspicion that God isn't good, that He really doesn't care about what matters most to us.
    List 10 expectations of your childhood God.
    Write 10 attributes you would prefer your God to have.
    Which matches the God that Jesus exemplified?  The answers are in The Book.  Trust, and the Spirit will teach you.

"Genuine beginnings begin within us, even when they are brought to our attention by external opportunities."  William Bridges

The transformed life is not found in trying to live up to the Bible or other peoples' interpretations of it, but being absorbed with the pursuit of a Holy God.
    Jesus tells us not to worry about anything.  [Matthew 6:25-34] It's all under control.  Calm your heart.  Rest your soul, and trust that something extraordinary is going to happen in a way that you can't fathom.
[Click here to begin the study.]