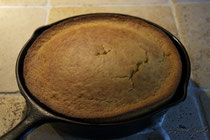 This is one of the first recipes I ever learned to make.  It's reputed to date back to colonial America, and since I've had my hands on it, it's traveled the seven seas.

It's perfect with chili, or toasted with honey & butter, or grilled sausages, or with a salad or ruccola & tomatoes….
Preheat oven 180°C (350°F)

Beat together in a medium-sized bowl:
    225ml (1 C) buttermilk (or yogurt + milk)
    2 T melted butter
    75 g (¼ C) honey or sugar
    1 egg

Combine in a separate bowl, then stir into batter:
    125 g ( ¾ C) cornmeal (fine-ground polenta)
    125 g ( ¾ C) white flour
    2 t baking powder
    ½ t salt

Add optional ingredients, if you choose:
    100g corn kernels
    50 g chopped chilies
    ¼ t chili powder

Spread in greased baking pan, skillet or muffin cups;
Bake muffins until a knife inserted in the center comes out clean, about 20minutes or 30 minutes in a cake form.
Let cool for about 5 minutes before removing from baking pan.
the Mediterranean Chef
by
AprylZA
Many more
cooking aprons
online at zazzle