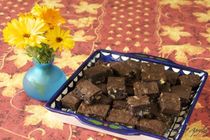 Have you ever experienced the stages of adjustment when you move to new surroundings?  It's commonly known as 'culture shock,' and there is a predictable pattern of behavioral change as the thrill of discovery ebbs and flows with the violent tsunami of loss.

Looking back, I'm relieved that I didn't drown in the backwaters of expatriate wifedom.  The working spouse is usually occupied with his (check the statistics) new adventure, while little missus tries to recreate the home environment.


Armed with my German dictionary, I spent an hour in the tiny corner Spar trying to make sense of the cartons and jars.  It was with gratitude and despiration that I worked my way through my pile of cookbooks I'd received for my wedding:  a fine variety of York County churches, fire companies, farm women organizations, and the Red Lion Historical society all participated in my well-being.

Therefore, it's in honor of all the homemakers who've gone before me that I present my brownie recipe….

Combine in a large bowl:
    200 g (1 C) sugar
    150 g (1 C) flour
    45g (1/3 C) baking cocoa (not hot choc mix)
    ½ t salt

Form a well in the center and add:
    125 g ( ½ C) melted butter or cooking oil (walnut oil is yumm!)
    2 eggs
    10ml (2 t) vanilla extract or flavored liquour (mint is lovely)
Be careful that your butter isn't too hot, or you'll cook the eggs as you add them to the batter!

You may want to add:
    125 g (1 C) chopped walnuts or chocolate chips
    about 2 T dried herbs such as mint & verbena
I'm not a fan of narcotics, so I don't recommend that you fuel your addictions with cannabis or its cousins…. Having said that, why am I making brownies if I'm not nursing a primal urge for chocolate?  Does it help if I share?

While we carry on this debate, check that your oven is preheated to 165°C (325°F), and butter a 20cm (8") square pan—or whatever you've got—and spread the batter evenly, without letting too much of it be eaten en route.

Bake 165°C (325°F) for 30 minutes; let it cool before cutting.  (Good luck!)

To take these brownies to the next level, while they're baking, blend:
    2 C powdered sugar
    125 g (½ C) soft butter
    2 t mint liqueur (crème de menthe)
    1 t green food coloring, if desired
Spread over warm brownies.

Melt together:
    1 C semi-sweet chocolate
    1/3 C butter
Spread evenly over icing; let cool.
[More culinary delights here.]