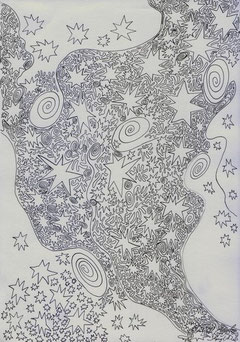 Our days fly by so fast that it's hard to pin ourselves down, so the rare evening with friends was especially dear.  I'm sharing the basics of our conversation with you because all of us were surprised to find ourselves coming full circle, even circles within circles.

And I rather expect, that in writing this, I will uncover more circles; and as you read, you'll link in with several circles of your own.  This has the potential for great beauty!

Keep in mind that any great work of art shines with a brilliance that is offset by depth and darkness.  Likewise, our shared ideas are a veritable Pandora's box.  We weren't too many minutes into catching up with one another until the conversation came to the current financial crisis.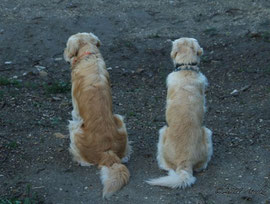 Within the mix of financial and technological business people, stir in an artist, and stand back.  Excuse me, but why are you insisting that there's a shortage?  It's uneven distribution, and how are we going to redirect the flow?  I hear that all of you are hearing this and reading that, will the economy turn around by the end of the year or is it already picking up?  Whom do you choose to believe?  And why am I seeing more money than ever before being spent on the work of dead artists?  Where's that money coming from, and where is it going?

Okay, so we changed the subject for a while.  What's a fun day out with the family during the school break?  We don't want our children spending all day on their computers!  Have you seen this year's Picasso theme at Cathedrale des Images at Les-Baux-de-Provence?  It's fantastic!  Have a look at my YouTube page:  google AprylZA…
And we were off and running down the information highway.  Run, Forrest, run!  We laughed at how 'Google' has become a verb, and the annoyance that blogging is still red-lined by the spell-check.  Facebook and twittering, and are we wasting time or locating products and services that expand our world?

As promised, here are the links to some wonderful randomnesses:
Post Secrets France,  Zchoc, the brain expert, Urban legends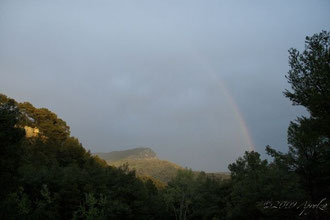 Well now, with all of this information available at our fingertips, how do we know what is real?  We have the option of networking with people on the other side of the world, but where is the trust, and how do we protect our children?
How do we know that Wikipedia yields truth, and God forbid, will the next generation believe what they read, as if the holocaust never happened?

Controls, protection, buyer beware?  Circles within circles, financial loss and gain, economies rising and falling; we speak of the world getting smaller and expanding our network.  What has changed? 

We want to be an active part of a community that we can trust.  The only way to do that is to keep putting our selves out there, giving one another trust and being worthy of that trust.

This is a realization worth celebrating, and it's hardly coincidental that it took us 5 delicious courses to arrive at that truth.  We meet one another over apperatif, move to the table and wander through conversation and refreshment, agreeing, disagreeing, and finding common ground.  Dessert was a sweet finish, and I was filled to bursting!