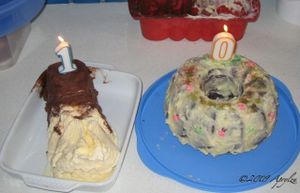 True to the best of Pennsylvania Dutch style, my dad was raised on something sweet after the meat.  He took to this so well that his childhood nickname was "Cakeface."  Therefore, one sure-fire way for my mother to ensure marital bliss was to bake a Betty Crocker Cookbook Butter Cake every Friday.
   
I confess that my housewife skills are lacking.  I only make this for birthdays and other good excuses.  Blame it on modern times.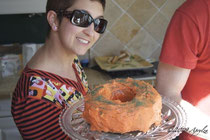 Beat together in a large mixing bowl until creamy:
    175 g (2/3 C) soft butter
    400 g (1-3/4 C) sugar   
Add and keep beating until light and fluffy:
    2 eggs
    ½  T vanilla extract

Sift together in a smaller bowl:
    350 g (2 ¾  C) white flour   
    1 t salt
    2 t baking powder   
   
Add flour mixture to batter alternately with, beginning and ending with dry ingredients:
    300 ml (1-1/4 C) milk  (sour milk works very well in this recipe)

Do not overbeat, or it won't rise properly. 
Pour into greased & floured pans.

Bake 180ºC (350ºF) for about 45 minutes, until a knife inserted into the center comes out clean.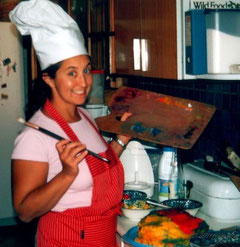 And for Mother's Buttercream frosting...
Beat until light and creamy:
    65 g (1/4 C) softened butter

Gradually add:
    (2 C) confectioners' sugar   
    2 t vanilla or liquor
    pinch salt       
    a little milk for a smooth consistency

Whip until light and fluffy; spread on cooled cake.
Experiencing Picasso
by
AprylZA
Browse more
Pablo Mugs