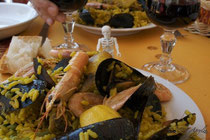 My life is a tug-of-war, and I'm the rope.
What can you do to shift the odds to the winning side?  Are you struggling with any negative consequences of an out-of-control behavior? What feels like slavery?  What's missing in your life because of these compulsions? Name all the people and situations that keep you from living life to the fullest extent.  Cartoon your carrot and stick.
What will you miss about giving up a particular behavior?  What do you feel when you notice a compulsion to indulge?
What stands in the way of your journey?  Is it circumstances?  Or relationships?  Any obligations? Do you want to begin, but feel overwhelmed by the pressures?
List as many ways you can think of to change your reactions.  What are the triggers, and how can you avoid being shot down?  What positive behaviors might you substitute?  Be aware that this treats the symptom, not the disease, but awareness is the first step toward lasting change.  It's not about working on; it's about letting go.

"I don't understand myself at all, for what I really want to do what is right, but I don't do it.  Instead, I do the very thing I hate.  I know perfectly well what I am doing is wrong, and my bad conscience shows that I agree the law is good.  But I can't help myself, because it is sin inside me that makes me do these evil things."  Rom 7:15-17 (NLT)

Jesus already proved His defeat over death, but what did that mean for His followers?  We don't often consider what it must've been like for Christ's followers in the time between His death and disappearance, until they received the Holy Spirit at Pentecost.  Like newly released prisoners, their changed lives had no direction, and they had no idea how to live their teacher's bigger, bolder reality.  
    Ever resourceful, Peter declared, "I'm going fishing.  Who's with me?"  
    Naturally, they turned to the familiar, although not necessarily preferable, even spending the night without a bite.  Their lives might have resumed, the memories of the uprising just a stirring dream, until Peter recognized his teacher…. Read John 21:1-19.
    Allow yourself to be a beginner.  So much of the risk of truly living is shackled by a fear of the unknown.  Write your own description of the unknown.

"The important thing is to be able at any moment to sacrifice what we are for what we could become."  Charles Dubois

I have so many great ideas, why can't I see any through to completion?  Why is it so hard just to get started?
    It's because we don't know for sure how it's all going to turn out.  We want some kind of assurance that everything's going to be all right, even though reality says that the future is out of our control.  Instead of surrendering to the mystery, we cancel the entire journey.  It seems so much easier to get caught up in the little everyday obstacles so as not to fall into something unexpected and potentially dangerous.  Alice had no intentions of exploring Wonderland, but what if she'd decided that rabbits don't wear gloves and carry pocket watches?
    The only guarantee in choosing the Great Adventure is that you will be changed.  Trial by fire will transform you.  You will be burned and you will be refined as pure gold.

"LORD, I do believe, please help me overcome my unbelief."  (Mark 9:24)

The refusal to begin your journey won't keep you from having one.  You begin your days in motion anyway, like a prisoner making your daily rounds within the walls.  It's only after that desperate cry, "take me where You would have me go; make me what You would have me be," that your journey becomes both God's and uniquely your own.
    Each of us is unique and irreplaceable.  There is only one of us in all eternity.  At this moment, you are an individual person on earth with a whole realm of unseen reality wanting to aid and guide you, while others would attempt to distract and discourage you.
    Think of your own inimitable experience.  No one else has taken your journey, even if he's walked in your steps.  You may look at the same sights, but your view will be your own.
    The only requirement to this incredible adventure is the choice to continue, and the offer is renewed every morning.  The willingness to be led is the invitation, and the dance will follow.  This is the emergence of faith.  Second Corinthians 4:16 says, "Therefore we do not lose heart. Though outwardly we are wasting away, yet inwardly we are being renewed day by day."

"As part of your humanity, it is also in your nature to want to feel good, to want to keep your body free from disease, dysfunction, and illness.  The two desires, participating in creation and maintaining wellness, walk hand in hand.  In physics, the first law of thermodynamics states that energy is neither created not destroyed but is changed from one form to another.  Expressing the creative force within you into outward manifestation means the energy within you is given an outlet."  Christina Grant, PhD

Go for a twenty-minute walk.  See if you can do this daily.  Go with the flow.


[The Source begins here.]