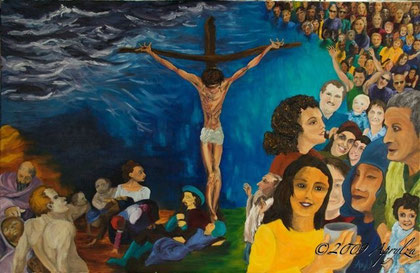 This teaching theme resonated with me: "Resurrection is the victory over evil, and the consecration of 'Easter people' who anticipate the new creation."

I know how it feels to wake up wondering how you let yourself get into such a shallow grave, or as Nicholas Murray Butler put it, "Many people's tombstones should read: Dead at 30. Buried at 60."

I'd been raised with good Christian ethics, and confessed the deity of Jesus Christ at a young age without experiencing any evidence of 'rebirth' in my life.  The crosses I carried weren't particularly threatening to anyone.  But that's all changed now.  Declaring myself an artist and actually daring to live as one has been the equivalent of Yeshua calling Himself a rabbi.  I've been insulted, ridiculed and threatened; conversely others have encouraged me more than ever before.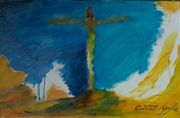 Back to the painting, focusing on the theme, words and images came immediately to mind.  I made a series of sketches and consulted my art books. 
This passage from Paul's letter to the Philippians (2:5-11) for instance:

Your attitude should be the same as that of Christ Jesus:
Who, being in very nature God,
    did not consider equality with God something to be grasped,
but made Himself nothing,
    taking the very nature of a servant,
    being made in human likeness.
And being found in appearance as a man,
    He humbled Himself and became obedient to death—
    even death on a cross!
Therefore God exalted Him to the highest place
    and gave Him the name that is above every name,
that the name of Jesus every knee should bow,
    in heaven and on earth and under the earth,
And every tongue confess that Jesus Christ is Lord,
    to the glory of God the Father.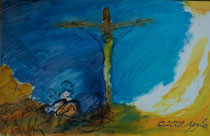 The general layout compiled itself in a dream, and everything else fell into place like a jigsaw puzzle.

The cross is central:  Jesus presents a crossroad with the challenge of His life.  How to glorify the action and not the image?  The ancient Roman method of torturous death yields nothing redemptive in a message of beauty, especially in the hands of one so ill prepared.  Portrait painting is not my forte, and the anatomy of one who'd been beaten beyond recognition is not pleasant.  So, I looked to Matthias Grünewald and his 16th century Crucifixion.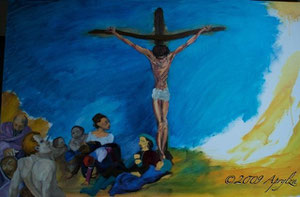 I followed with the living dead.  Ironically, these souls have been immortalized through the work of great artists:  on the lower left, from Michelangelo's Last Judgment, Millet's the Gleaners, Delacroix's Orphan girl in the graveyard, and Piero della Francesca's Resurrection of Christ.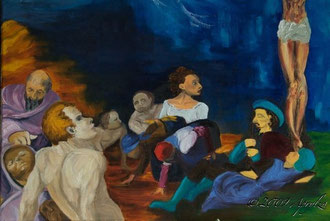 This group varies in their recognition and acceptance of the messiah.  They are distracted for one reason or another.  The soldiers are just doing their job, He's not worth a second thought.  The gleaners are obviously too busy trying to earn a living to look up, except for the orphan girl in the graveyard.  She's astonished, but doesn't know what to make of what makes no logical sense.

I had an interesting moment while I was painting the two figures at the far left.  They were some of the characters I'd sketched in practice, but their layout was unplanned.  It was while I was giving them life that I sensed that the forbidding robed figure was suppressing a struggler:  How often I've seen misuse of power in this world! 

It was precisely this legalistic treatment that got Jesus into so much hot water.  And how many millions of souls have gone to their graves under the fist (or authoritative guidance) of such as these?  Fear is the hundred deaths….

This thought gives new hope to the man who stands naked and unashamed before Christ.  He has confronted that which held him bound and captive.  In another irony, he is not looking to Christ crucified as in idol—an image to be worshiped—but as an example.  He is now capable of true worship with his life.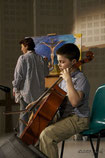 The next stage of my painting happened at 7am, during the Easter Sunrise Service.  I had prepared through the week by seeking images of those living out the transformed life.  My art books dashed my hopes:  religious works were full of other-worldly saints, and erotic images were hardly suited to bear the reflected image of the divine.  Where were real people, living life to the fullest?  In my iPhoto images, of course!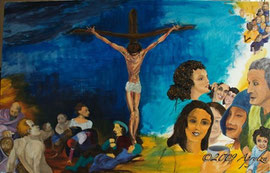 I confess that I don't know whether I attempted to alter the photographic realism of my friends, or it's my lack of technical skill, but it's not my intention to recreate identical representations.  I tend to get too hung up on details, and I didn't want to fall into my own trap.  Instead, I was seeking the characteristics of communal living—life in community, with Christ in common.  Offering the cup, raising a child, singing, celebrating, doing all to the utmost, with joy and hope.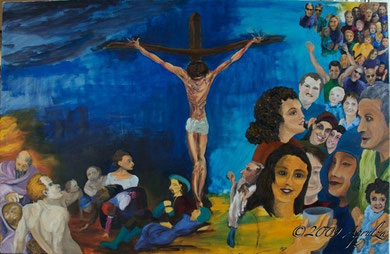 The only non-living character on the right-side of this tableau is taken from a sketch I made in the Musée Granet from Saint in Ecstasy, by an anonymous Italian artist of the 17th century.  The original painting is striking in its life and motion; it's obvious that in the 'next' painting in this series (had there been one), we would surely see the man sucked right into the radiant light.  Flagro non comburor, would he be burned but not consumed by his life of passion?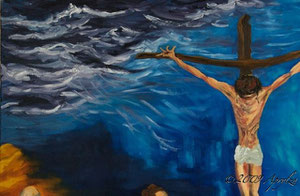 Finally, the inspired God who brings all works to completion.  He is the breath, the Spirit, and the inspiration.

I was inspired by powerful storm clouds—of which we've seen many in the last few months.  I was surprised to see that the darkest area took the shape of mount Sainte Victoire.  She is called 'lou Garagaï' by the locals.  This is the Provençal word meaning 'dragon,' and follows the story that she will come to life on the last day.