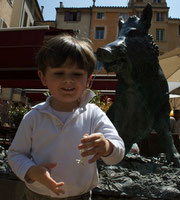 The refusal to begin your journey won't keep you from having one.  You begin your days in motion anyway, like a prisoner making your daily rounds within the walls.  It's only after that desperate cry, "take me where You would have me go; make me what You would have me be," that your journey becomes both God's and entirely your own.

    Each of us is unique and irreplaceable.  There is only one of us in all eternity.  At this moment, you are an individual person on earth with a whole realm of unseen reality wanting to aid and guide you, while others would attempt to distract and discourage you.

    Think of your own inimitable experience.  No one else has taken your journey, even if he's walked in your steps.  You may look at the same sights, but your view is uniquely yours.

    The only requirement to this incredible adventure is the choice to continue, and the offer is renewed every morning.  The willingness to be led is your response to the invitation, and the dance will follow.  This is the emergence of faith.  Second Corinthians 4:16 says, "Therefore we do not lose heart. Though outwardly we are wasting away, yet inwardly we are being renewed day by day."

    Be loyal to your journal about what you experience en route. First thing every morning, write three pages of whatever's on your mind.  Let it flow.  Don't hold anything back.  Don't read back over what you've written for at least eight weeks and don't ever show anyone what you've written — your words and thoughts are not open to judgment.  They are the most important element in learning to hear the loving voice of YHWH and to identify and disarm the voice of discouragement: Satan, the Accuser.
    You will learn that your accuser's negative opinions are not the truth.

    There is no wrong way to fill your journal, so your opponent's opinions do not count — although you're welcome to write down his words as evidence of his tactics.

    Draw; add images and clippings that speak to your heart.  You don't even need to know why these things inspire you, but it is of extreme importance to become aware of what stirs life in you.

    When painful memories come up (and they will), write them down.  Did Satan use the voice of a parent to keep you from exposing your glory?  Draw a picture of him behind the mask.  Set a teacher free.  Turn negative into positive.

    Journalizing is a left-brain versus right brain exercise.  Left brain is logical and necessary for survival in a post-Eden world.  The unknown is risky, suspicious, therefore full of danger.  Bringing your own original thoughts to light will help you to locate their source.  Awareness is strength, and possibly a key to unlock your shackles.

    I started writing in response to my daily Scripture reading, noting which verses spoke to me and why.  Get into the habit of reading a bit of the Bible every day.  There are many versions available, even on the internet. Google a verse and see what comes up.  I rely on Tyndale's One Year Bible for daily reading.  Please don't use a devotional during our course.  Many people have received wonderful understanding of God's Word, but we need not learn from them right now.  Consider it a season to experience what the LORD says to you personally.

    To really know the mind of God, read what He's said through His people in the Scriptures.  Not all of these esteemed characters were saints in the flesh!  If God could use fallen idols such as these, what might He be able to accomplish with our willing lives?

Go for a twenty-minute walk.  See if you can do this daily.
[click here to go back to the begining of this study.]