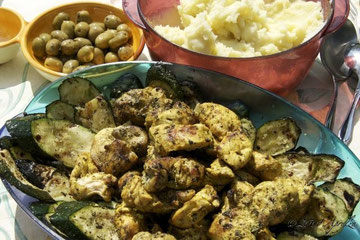 This is an incredible mix of spices for those who are unaccustomed to spicy foods.  Any cut of chicken can be used, although this is most suited to grilling.  A whole chicken does well as a rotisserie roast, bite-sized chunks are fantastic skewered and grilled, and it doesn't hurt to bake in the oven, either.

Combine:
    175ml ( ¾ C) olive oil                     2 t ras el hanout or curry powder
    juice of 1 lemon                              1 t ground cumin
    1 t salt                                            1 t ground coriander
    1 t ground black pepper                 ½ t ground turmeric
    2 t dried mint

Marinate the chicken for 2 to 24 hours.

Skewer and grill over medium heat until tender, about 20 minutes
Or bake 180°C (350°F) covered for 30 minutes, then uncovered for about 15 minutes
Or follow the directions on your oven rotisserie guide.

To accompany the meal, we grilled zucchini that had been sliced, salted and tossed with olive oil and herbs de Provence; also mashed potatoes that I'd microwaved with crushed garlic and salt.

Sadly, there were no leftovers.
Hot Stuff!
by
AprylZA
Design
custom aprons
online at zazzle