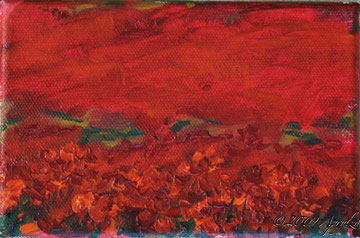 We revel in the delights of May, beginning the month with Labor Day on the 1st, VE Day on the 8th, Ascension Day on the 21st and Pentecost on the 31st.  Of course, if any of the holidays should fall on a Tuesday or a Thursday, it's only right to "make the bridge" rather than disrupt the holiday atmosphere.  Considering that we're coming out of another winter, the glorious weather must be celebrated!

There's something about seeing fields of May flowers that revives the soul fully out of hibernation.  The bright colors in a blue, blue sky make life worth living.  So, why then, does the poppy represent war remembrance?  Why do we see poppy lapel pins on Victory over Europe Day on 8 May, and (more strangely) when poppies aren't even blooming on 11 November?

A poppy seed can lie dormant for about a half century, as it requires light for germination.  The extensive trench systems and destructive bombing of France and northern Belgium turned farmers' fields, exposing the soil in an unprecedented way.

It's quite fitting that the blood red blooms have come to represent the gain and loss for those who made the supreme sacrifice for others.

Here's the poem that was written by a grieving army field doctor.  (More about his story is on the Arlington National Cemetery website.)



In Flanders Fields
By: Lieutenant Colonel John McCrae, MD (1872-1918), Canadian Army

In Flanders Fields the poppies blow
Between the crosses row on row,
That mark our place; and in the sky
The larks, still bravely singing, fly
Scarce heard amid the guns below.

We are the Dead. Short days ago
We lived, felt dawn, saw sunset glow,
Loved and were loved, and now we lie
In Flanders fields.

Take up our quarrel with the foe:
To you from failing hands we throw
The torch; be yours to hold it high.
If ye break faith with us who die
We shall not sleep, though poppies grow
In Flanders fields.
Here's a beautiful website for a memorial worth visiting.

I thought I was simply trying to create a pretty picture on a frustrating day… and then, I let myself go, and released something of the inner conflict that so often explodes into a life destructive force.  How many wars might be averted if we had more ways to grow life instead of destroy it?
the Poppy Field
by
AprylZA
Browse
Bright Postcards
Poppy Postage
by
AprylZA
Make personalized
stamps
at zazzle.com
the Poppy Field
by
AprylZA
Design
travel coffee mugs
online at zazzle.com