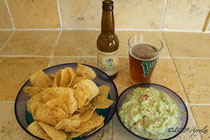 Here's another snack that I serve to our hard-working crew.  Guacamole is a successful marriage with a great beer, and we've just discovered an excellent organic micro-brewery near Grenoble.  La Brasserie du Chardon is worth knowing about.  Cheers!


Mash in a bowl:
    2 ripe avocados
    1-2 crushed cloves garlic
    100ml ( ½ C) crème fraîche or yogurt
    juice of ½ lemon
    ½ t salt
    ½ t ground cumin
    chili powder to taste

Stir in:
    1 chopped fresh tomato
    ¼ C chopped green chilies
    2 T chopped fresh cilantro

It's not been too many years since taco chips started appearing on the market here in France.  Prior to that, we had to 'make do' with potato crisps or sliced baguette.  No complaints.
Hot Stuff!
by
AprylZA
Many
apron
designs available on zazzle