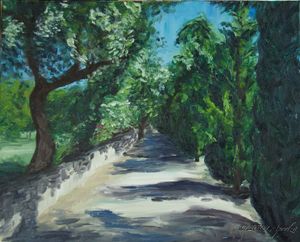 What exactly is His Will?  Might it resemble my desires? 

How could it, when I'm not sure what I'm doing, where I'm going, whom I am serving? 

Everyone goes through periods of deep inner peace and joy, as well as unwelcome times of restlessness and doubt.  This is faith. 

If we knew, always knew, what it is we know, then there will be no new territory to explore.  The Promised Land would always remain as distant as the Great Tomorrow.
When we mindlessly move through our daily existence, we don't experience the abundant life. 

A life of evolution by intelligent design is possible if you put your mind to it, and give it your heart and soul. 

Invention demands creation, and creation requires a Creator.  Like the slave moving toward his freedom, you're challenged to face your fear and trust an unseen guide.

"Consider it pure joy, my brothers, whenever you face trials of many kinds, because you know that the testing of your faith develops perseverance."    James 1:2-3

"Life is short, art long, opportunity fleeting, experience treacherous, judgment difficult."  Hippocrates

GROWTH is an erratic forward movement: three steps forward, two steps back.  It's a dance of persistence, patience and endurance with grace notes of joy over the backbeats of fear.  It's a rolling and flowing with the tides, and the life and death of passing seasons.
    Read Isaiah 35:8-10; Jeremiah 17:7-8; Psalm 73:25-26.

We want the clarity of a burning bush (Ex 3), but God speaks in a whisper (1 Kings 19:11-12).  Notice in Exodus 3:4, that even with an incendiary scrub wood — see the similarity to the word 'incentive' — the LORD was still patiently waiting to capture Moses' full attention.  Might there be a bonfire you've overlooked?

"You were guiding me as a helmsman steers a ship, but the course You steered was beyond my understanding."  St Augustine, Confessions

"The best way out is always through."  Robert Frost

"Fatalism is a species of fear — fear that your fate is in your own hands, but that your hands are weak."  Conrad


[The study begins here.]