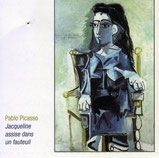 Not every day turns out as I planned.  That's why I screen my phone calls.  Thankfully, there was one welcome interruption yesterday:  an invitation to hear Bruno Ely speak to the tour guides about the upcoming expo at the Musée Granet:  Picasso regards Cézanne.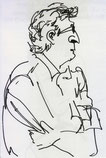 It was the usual rush to clean up, get the oil pastel out from under my nails, make myself presentable, love the dogs, lock all the doors, love the dogs, hope the scooter would start (it didn't), love the dogs, drive away and hope for parking, stride as gracefully as time would allow to arrive at the museum respectably on time….  We took our places in the conference room as an associate told us something of the progress of preparations.  Regrettably, Mr. Ely was occupied with hanging, and hoped to join us momentarily.  Prospects weren't looking so good….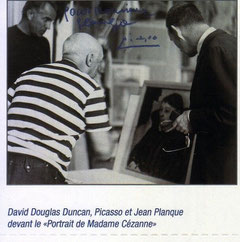 Oh, the proverbial pin drop when it was announced that the chief curator couldn't step away, and would we mind coming up?

No one minded.

It was already after 5pm, Mr. Ely was tired, and it was rather a shame to distract him from his weighty task.  Well, sometimes we must bear the shame, because he evidently needed a break.  I hope that he could recognize how invigorating it is to step back from an intense labor to regard progress.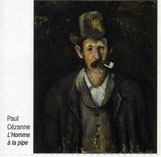 Despite the number of times that I've moved house and helped others settle into theirs, the similarity in the disarray was delightfully countered by the effect of seeing several great works already in place.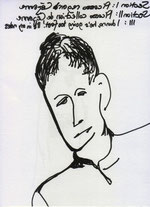 Not that I'm a great fan of Pablo Picasso.  Prior to January, I never tried to understand this renowned aggressive scribbler.  Even with a daily dose of google alerts, I found relatively few articles that could teach me about the world's most famous artist.  Plenty of proud parents and enthusiastic agents will boast of their progeny's prowess in his name.  The fine arts investment market keeps economies flowing by the work of his hands.  Why?

Who was this man, created in the image of God and reputed to be such a devil?  This question is completely irrelevant to the expo… isn't it?  The central theme is that Pablo Picasso revered the work of Paul Cézanne.  Picasso's entire career followed closely to Monsieur Cézanne's techniques and themes, not one's feelings of student to his master.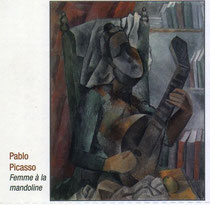 The expo opens with a still-life of Cézanne's that was painted in 1881, the year of Picasso's birth, then moves into the parallels of their art school education.  There is homage to Ambroise Vollard, "the legendary dealer with an unerring flair," who is responsible for launching the careers of the early modern painters. 

Portraits and adventures in cubism are a strong point of this expo—I should say force.  So much truth and variation comes from confident craftsmanship in tension with a desire for exploration—in other words, a balance of work and play.
Section II:  Picasso collects Cézanne, opens with the words of Picasso, "What is a painter?  He is a collector who wants to form a collection by doing paintings that he admires in others."  Somewhat a twist on that oft repeated quotation, "Bad artists copy; good artists steal," let it be understood that Mr. Picasso had acquired an admirable genuine collection through exchange and purchase.  (This family collection is now in the Picasso museum in Paris.  A few are on loan for this expo.)

Notice that the same poses that Cézanne learned in art school are repeated throughout his career—notably in his bathers series—and carry over into Picasso's work.  Likewise, the Cézanne family chair that turns up in nearly all of his portraits is recognizably present in so many of Picasso's works.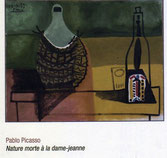 Section III:  Shared themes and forms:  the card players, the pipe-smoker, Cézanne's bathers and Picasso's Bathsheba (I like that she's having a pedicure!), the seated woman (and Picasso had more than a few), the artists' relationship with their children, the temperamental Harlequin, the skull in still life, and apples the fruit bowl as a search for space and form.
Section IV:  ‹‹Picasso approaches Cézanne›› is one of the rare shortcomings of the English translation.  Rather than implying that Picasso was sneaking up on Mr. Cézanne in some dark alley, the final rooms of this collection present the ways that Mr. Picasso recognized his master, yet thoroughly enjoyed his own style.

The purchase of le château de Vauvenargues was intended as an escape from excessive notoriety.  The critics had been harsh over his flamboyant works and the flow of journalists and tourists left no time for love.  It's fascinating to observe the expression of release and freedom on these messy canvases that were created during his brief sojourn here.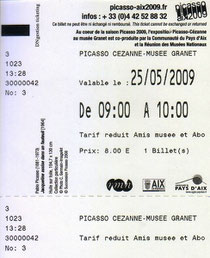 Listening to Bruno Ely speak on an artist is like standing under a waterfall with ones mouth open, and yesterday was a 3-hour deluge!  Oh, delightful inundation! 

So, what's the difference between aggressiveness and confidence?  There is an undeniable force in these works—some more than others, some barely breathing.  Unless they're still in the packing crates, I saw none of his trademark charging bulls.  Sometimes, that force can be contained, or at least, redirected.  We can clearly observe the striking difference between the crimes of passion played out on the canvases and Picasso's reverence for his mother.  Who was worthy of respect, love, and honor in Picasso's world?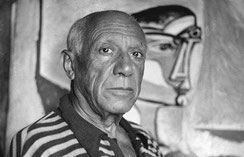 I still don't like Picasso.  If I was to organize the dinner scenario, he wouldn't be on my list.  I appreciate that he could communicate his vision to the generations, but I don't like the world through his eyes.  But I have the highest respect, honor and love for this man who was confident—and aggressive—enough to present his truth, and I am extremely grateful for this communion of minds who seek greater understanding.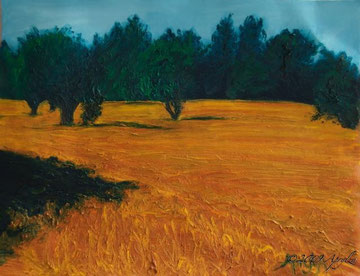 And I've decided that it's a good omen that I carried lasting oil pastel residue under my fingernails that matched 'le vert de Vauvenargues.'
More of my blogs about the upcoming expo Picasso regards Cézanne are:
Vauvenargues: Picasso RIP...until 25 May, 2009
And more of my art blogs here.
après Picasso, verre & pomme
by
AprylZA
See more
Modern Posters
après Picasso, les acrobats
by
AprylZA
View other
art
at zazzle
après Picasso, un verre du vin
by
AprylZA
Browse the
poster
designs at zazzle.com