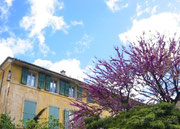 What exactly is His Will?  Why would it resemble my desires?  
    How could it, when I'm not sure what I'm doing, where I'm going, what I'm working for? 

Everyone goes through periods of deep inner peace and joy, modulated by the unwelcome times of restlessness and doubt.  This is the growth of faith.  
    If we knew, always knew, what it is we know, then there will be no new territory to explore.  The Promised Land would always remain as distant as the Great Tomorrow.  Mindlessly moving through daily existence, we rarely experience the abundant life. 
    Invention demands creation, and creation requires a Creator.  Like the slave moving toward his freedom, you're challenged to face your fear and trust an unseen guide.
"Consider it pure joy, my brothers, whenever you face trials of many kinds, because you know that the testing of your faith develops perseverance."    James 1:2-3

"Life is short, art long, opportunity fleeting, experience treacherous, judgment difficult."  Hippocrates

GROWTH is an erratic forward movement: three steps forward, two steps back.  It's a dance of persistence, patience and endurance with grace notes of joy over the backbeats of fear.  It's a rolling and flowing with the tides, and the life and death of passing seasons.
    Read Isa 35:8-10; Jer 17:7-8; Ps 73:25-26.

We want the clarity of a burning bush (Ex 3), but God speaks in a whisper (1 Kings 19:11-12).  Notice in Exodus 3:4, that even with an incendiary scrub wood — see the similarity to the word 'incentive' — the LORD was still patiently waiting to capture Moses' full attention.  Might there be a bonfire you've overlooked?

"You were guiding me as a helmsman steers a ship, but the course You steered was beyond my understanding."  St Augustine, Confessions

"The best way out is always through."  Robert Frost

"Fatalism is a species of fear — fear that your fate is in your own hands, but that your hands are weak."  Conrad

Your past experiences really do provide the answers for today's choices. The energy that is invested in survival gradually replaces your receptivity to God, even if you do manage to hang on to your spiritual convictions.  When you are satisfied with lesser things in your daily life, these replacements are the false gods that become obsessions, even addictions.  To change direction, learn to turn condemnations into affirmations.
    Learn from Hebrews 12:1-2.  Marathon runners train with one fast mile for two slow ones.  Gently move yourself forward.  Let yourself grow while you rest.  Stay consistent with your journal.  Challenge yourself, "what's the worst that might happen?"  Dialogue the possibilities and how you would like to face each one.  Visualize how you tend to respond, and then as your fearless self.  It's your journal, you can write the scene however you choose!  What can you do today that could make our actual response really happen?  Maybe not as dramatically as you imagined, but as a genuine step forward.
    Be gentle with yourself as you recover your life.  Remind yourself that growth is erratic.  The recovery of your soul is a process of healing, and regaining what's gotten lost along the way.  
    Is that bush still burning but not consumed?  Be aware that you will be tested on what you're learning.  Growth occurs in spurts.  You will sometimes be made to lie in green pastures (Psalm 23:2). Allow yourself to rest.  Teach yourself, if necessary.  Do not be discouraged.  Know that it's your opportunity to learn patience.  This is a lesson to seek peace within your self, not consolation from others.  Don't stop praying and crying out for deliverance!  Don't stop creating, and moving forward in small ways.  Drink deeply of the calm waters.   
    Learn to take quiet moments of solitude throughout the day.  Let this become a priority.  Experiment with quiet.  Make a commitment to have a moment of peace.  Start the habit of checking in with yourself.  Several times a day, take a breath and ask yourself what you are feeling inside.  Listen to your answer.  Respond with gentleness.  If you are doing something very hard, promise yourself a break and a treat afterwards.  And be sure to follow through!  As a creative being, you will be more productive when coaxed rather than bullied. Use Paul's example in Colossians 3:12-14 on yourself!

"Tolerance for uncertainty is the prerequisite to succeeding … Vision is always ahead of execution, knowledge of materials is your contact with reality and uncertainty is a virtue … All you can work on today is directly in front of you.  Your job is to develop an imagination of the possible."   David Bayles & Ted Ortland, Art & Fear: Observations on the Perils (and Rewards) of Artmaking; The Image Continuum Press; Santa Cruz CA; 1993; pg 3

"Whatever's worth doing at all is worth doing well."  P D Stanhope, Earl of Chesterfield (1694-1773)

THE COMMEMORATION PROJECT: Start a project that can be done simply and finished with excellence in a few hours.  Keep it simple, so that you can take the time and celebrate the results.  Think of several things you've done throughout your life that have required patience; you met the challenge and eventually reaped the results.  Frame that diploma or photograph, or complete a commemorative collage.  Hang your reward in a place that can encourage and inspire you.

This is also a useful method of fleeing temptation: those distractions that make you stumble. [Hebrews 12:1]  Realize that you are allowing yourself to be driven off course.  Distract the distracter by involving yourself in the act of creation.

"Perseverance must finish its work so that you may be mature and complete, not lacking anything."  James 1:4