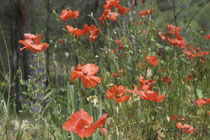 "I pray also that the eyes of your heart may be enlightened."   Eph 1:18

"I am concerned with a certain way of looking at life, which was created in me by the fairy tales, but has since been ratified by the mere facts."  G K Chesterton

Myths contain a profound element of truth that keep them timelessly compelling.  Meanwhile, we become so distracted by what's going on in front of us that we neglect what's essential.  Like Alice's looking glass, success and failure have very little to do with the bigger reality.
Success or failure, the truth of your existence has little to do with its quality.  The quality of life is proportionate to the capacity for pain and delight. This is passion. The potential for delight is the reward for paying attention. Passion is powerful and requires excessive amounts of grace.  Even the gift of pain can result in increased strength and empathy for those who are willing to grow through it. [Matt 5:3-16]

We rely on what we've learned of 'success' and 'failure' rather than by force of passion.  Passions are difficult and feel very uncomfortable. It looks too much like loss of control. That's why religious legalists condemn creative expression in its many forms.  It delves too deep into the unknown.  It's dangerous!

What was your favorite story when you were 8-years old?  What do you suppose was the connection?  Try to remember your favorites at other times in your life.  What hopes and dreams did these stories stir?  What fears did they confront?

Read Psalm 139, and notice the loving hand of the Great Creator.

"Those who don't believe in magic will never find it."  Roald Dahl