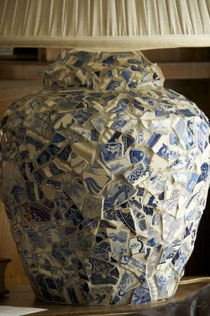 Once upon a time, there was a young family who moved house more often than reasonably necessary.  It may have saved them from spring-cleaning, but it resulted in a lot of excessive wear and tear and broken items.

And so, one thing leads to another, with patience and white glue, I covered our hideously scratched enameled lamps with pieces of broken porcelain plates.
Happily, I've found that my porcelain suppliers, Lovers of Blue & White, now has a website.  They offer a wonderful, constantly changing selection of perfect unbroken pieces, which is a fine way to start.  If your timing's right, you might catch them with some pieces that are headed to the garbage, and procure those for your creation.  You might also seek out potential shards from junk shops and car boot sales.
After the pieces had thoroughly adhered and the glue had dried, I filled in the gaps with bathroom tile grout.  It's wise to use protective gloves, as the edges are sharp!

When the grout is solid, use a course sandpaper to smooth the sharp edges.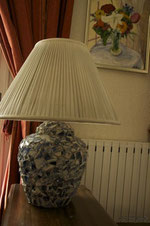 Now, if I could only get the nerve to attempt sewing new lampshades!  Did you know that American lampshade fittings are different from European?  Go figure!
[More random adventures of homelife with Apryl here.]
And here's a bunch of people that I've never met, breakin' some dishes of their own…