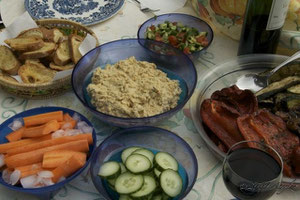 So, you're looking for a delicious, healthy soul-satisfying snack or meal for hiking into the hills or lounging by the pool?  Grab a bowl and get to mashing (or use your food processor, but isn't that a hastle to clean up after?)
If you happen to have leftovers, hummus becomes felafel when it's mixed with breadcrumbs, and then baked or fried until golden....
Mash together:
    300g cooked garbanzo beans, chickpeas, if that's what you're calling them
    100ml (1/3 C) tahini (sesame paste, available in Asian groceries)
    1-2 crushed cloves garlic
    ¼ C stock or water
    2 T olive oil
    juice of 1 lemon
    1 t salt
    ½ t ground cumin
    ¼ t ground chilies
    2 T chopped fresh parsley

Serve that with fresh crispy vegetables, hard-cooked egg, flat bread, and Zatar.
[You can find more of my recipes here.]
the Mediterranean Chef
by
AprylZA
Design your own
personalized aprons
on Zazzle