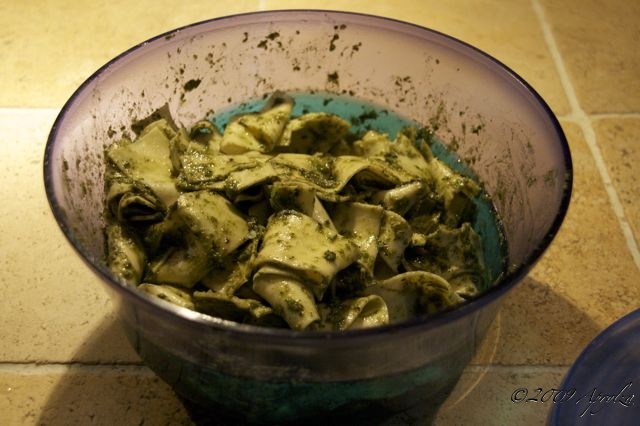 This is one of those short-season meals that's worth the wait.  Yes, you can make it with frozen or dried basil, but WHY?  The fresh, full flavor can't be compromised.  (I feel the same way about garden tomatoes, too.)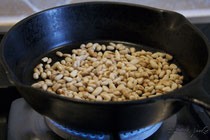 Start boiling the water for your pasta. 
Meanwhile, toast in a skillet until golden:
    50 g (¼ C) pigñoli or (almonds)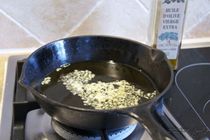 Remove from heat; and in that warm skillet, combine:
    100 ml (1/3 C) olive oil
    1 crushed clove galic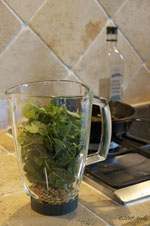 Chop the nuts with:
    75 g (1-½ C) fresh basil leaves
    25 g (1/3 C) fresh parsely
    50 g (1/3 C) Parmesan

Work in the hot olive oil, and season with salt & pepper.

You can use a blender or food processor, but if you want an authentic and aesthetically pleasing sauce, crush all of this in a mortar & pestle.

This is also a thing of great beauty served over grilled fish, oh yes!
Note: Beware of Chinese pigñoli!  Some people experience that EVERYTHING eaten during the week after consumption of Pinus armandii is followed by a terribly bitter aftertaste.  I'm one of those, and now You've Been Warned!
Bon appétit!
by
AprylZA
Create your own
personalized aprons
at zazzle