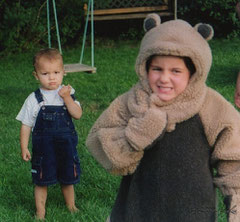 Know that your transformation will be a threat to those who are still feeling threatened by their own glory.
    Your growth is often delayed by other people's plans and expectations.  You want to set aside time for your real work, but in the name of servitude and selflessness you do something else instead.   It becomes a habit to be distracted by your responsibilities to others, neglecting what you're compelled to do.  Such behavior should make you a Good person.  In reality, it makes you an angry person.  That simmering frustration can only be contained for so long before it overflows.  Your passion is an energy force that must become a new creation.  When you are blocked, this energy will take on a new, and potentially destructive form.
    Self-respect carries a responsibility and a commitment.  You need to know who you are before you can effectively give yourself away.  The command to love your neighbor as yourself  (Luke 10:27) means so much more if you love yourself the way YHWH does.
Know that your transformation will be a threat to those who are still feeling threatened by their own glory.
    Your growth is often delayed by other people's plans and expectations.  You want to set aside time for your real work, but in the name of servitude and selflessness you do something else instead.   It becomes a habit to be distracted by your responsibilities to others, neglecting what you're compelled to do.  Such behavior should make you a Good person.  In reality, it makes you an angry person.  That simmering frustration can only be contained for so long before it overflows.  Your passion is an energy force that must become a new creation.  When you are blocked, this energy will take on a new, and potentially destructive form.
    Self-respect carries a responsibility and a commitment.  You need to know who you are before you can effectively give yourself away.  The command to love your neighbor as yourself  (Luke 10:27) means so much more if you love yourself the way YHWH does.  
    So, where do you stop and I begin?
    Relationship is learning how to respect one another as you respect yourself.  Even if that means you have to unlearn a few things first.  
    It's only after the "until-death-do-us-part" that we find out our partner's true intimacy.  Generally, it's as deep as your daily lifestyle.  When the patience of anticipation gives way to the stress of daily living, boundaries are established and broken.  We're just doing what comes naturally.

"The value of marriage is not that adults produce children, but that children produce adults."  Peter DeVries

Marshall Shelley ("from the Editors", Leadership, Winter 1988, vol IX, no 1 pg 3) says, "Researchers who have studied the neurochemical processes in the human brain have noted that the passion leading to spiritual fervor and the passion leading to sexual activity stem from the same kind of physiological chemistry.  Through indistinct but parallel channels, spirituality and sexuality are separated by a wall thin enough for a strange osmosis to occur; the energies get mixed up."
    This relates directly to the triangle of mental, physical, and spiritual.  We have a deep, deep desire to live life to the full — at whatever cost.  We'll even set up other people as our idols to the image of God.  The result is intimacy perfected or intimacy askew.  When lived out through our own self-defenses, these passages take on a terrifying aspect: Deut 24:5; Song of Songs; 1 Cor 7:3-5; Heb 13:4; 1 Pet 3:1-2
    The resurrected Jesus, in the Garden of Gethsemane, appears first to Mary, but He warns, "don't cling to Me." John 20:17  We must be able to distinguish the boundaries between self and other.

"As Jesus and His disciples were on their way, He came to a village where a woman named Martha opened her home to Him.  She had a sister called Mary, who sat at the LORD's feet listening to what He said.  But Martha was distracted by all the preparations that had to be made.  She came to Him and asked, 'LORD, don't You care that my sister has left me to do the work by myself?  Tell her to help me!'
    "'Martha, Martha,' the LORD answered, 'you are worried and upset about many things, but only one thing is needed.  Mary has chosen what is better, and it will not be taken away from her.'"  Luke 10:38-42

Have you ever questioned the expectations that others have put on you?  What about those expectations you've put on yourself, for their sakes, of course?
    And you, Mary, don't pack for a guilt trip!  You must be strong and courageous.  Pray and seek out supportive companions.  Your own healing is the greatest measure of hope for others.  You will be challenged.  Expect that.  Prepare yourself to be courageous.  Read Joshua 1:1-9.  Be strong and courageous!

"Oh, we've got to get ourselves back to the Garden."  Crosby, Stills & Nash

So, what's the great eternal Mystery?  It is that deep calls out to deep.  [Psalm 42.]  We all carry an internal memory of Eden, and sometimes, we hunger and thirst so desperately that we are drowning in despair, pulling those closest to us down in the struggle.  Those who are a shade healthier must keep our feet on solid ground and throw out the lifeline.  This may require you to shift your balance from your normal stance, as a lifeguard gets behind the victim in order to maintain his position of strength.  "I can't save you, but I can lead you to safety."

"A funny old world — a man's lucky if he gets out of it alive."  W  C Fields, in the 1934 film, "You're Telling Me"

"DRAMA depends upon conflict.  The protagonist must face tests and trials, and through overcoming them, reveal his true character… Violence and sexual betrayal — trust and intimacy — are among the most extreme tests we can face, which is why they are so frequently used in story lines."  Steve Turner, Imagine, pg 38; 2001, Intervarsity Press, Downers Grove, IL