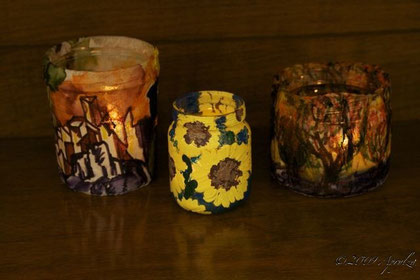 Our theme is loosely based on "Indiana Jones" this year.  Try picturing your favorite adventure story, add silly games and water and song and dance and the occasional bouncy castle, and you're beginning to get the idea.  No flannel boards or coloring pages here!
Following the Scripture Israel's cry, and chooses to send Moses.  He used a burning bush to catch Moses' attention.

He hears the cry of our hearts, that's why He sent Jesus. His life was a bright spark in a dark world.  'Freedom in Christ' calls us to live with passion for the better way.  Oppression can not smother the flame.

God wants to use you in great ways, too.  Jesus told us that we're a city on a hill, and a light that needs to shine. FLAGRO NON COMBUROR—we are burned but not consumed.
So, we're decorating glass jars for candle pots.  Gather up lots of paints, glue, colored markers and tissue paper.  Go to it!

I decorated a white paper tissue with colored markers, and even splashed it with a few drops of water to give it a watercolor effect.  Then I brushed it onto the glass with thinned white glue—whisk the glue with water until you have a consistency of heavy cream.

You can thin the paint with white glue, too, to simulate stained glass.  This example is undiluted acrylic paint.

These should dry pretty quickly in the summer heat.  Pop in a tea candle, and let your little light shine!
Live out loud!
by
AprylZA
See other
Cathedral Cards