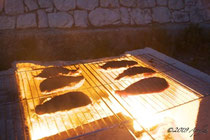 Barbecue season is just heating up, and Tim, the grill master is only getting better.  Marinate your steaks while your building your barbie...
Combine:
    100ml (1/3 C) red wine
    50 ml (¼ C) olive oil
    1 T lemon juice
    2 t tomato concentrate (or ketchup)
    1 or more crushed clove garlic
    1 t ground cumin
    ½ t ground cinnamon

Marinate for 6-24 hours:  about 750g meat

Grill steaks or skewers—this loves grilled veg, too!

You can bake this at 180°C (350°F)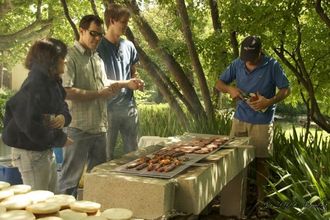 Hot Stuff!
by
AprylZA
See more
Red Aprons