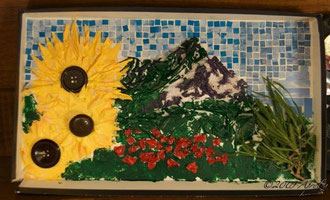 As in Ex 3:11-12, the Spirit of God is ever-present as you take up your adventure.  Sometimes, the distractions of daily living make you forget your vision.  It's important to keep reminders, like regular Scripture reading, and a collage of what you really love…

Gather paper, markers, scissors, glue, lots & lots of colorful magazines, and as much glitter as your senses can handle.  Before you start cutting, make a list of about 10 things that make your life worth living.  What's really important to you?  What would you love to do every day?
This is a two-part project.  This can be spread out over two days, depending how wrapped up everybody gets in their visions.  Either the vision collage can go inside a shoebox lid, or all over the shoebox itself.  Or, for bigger visions, create a poster.

Encourage the kids to gather their pictures before gluing.  Let them talk about the images they found, and find their own way of arranging them on the box.