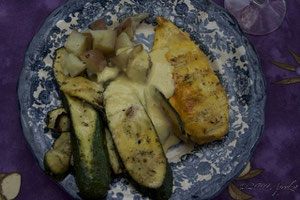 In keeping with the best tradition of the Catholic 'meatless' Friday, most restaurants in Provence offer l'aiöli on their lunch menu.  It's usually accompanied with steamed or boiled fish and vegetables.  You can team it with any meal that wants a hearty sauce:  grilled meats and fish, potatoes, zucchini or asparagus, also as a salad dressing, or to garnish bouillabaisse, or in a fresh tomato sandwich.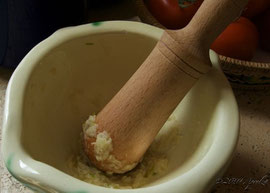 I'm demonstrating the traditional method in a mortar and pestle, but it's also quite legal to create an industrial sauce with a food processor or blender.

Crush to a paste:
    3-5 peeled cloves garlic (or 1 clove if you're a beginner)
    ½ t salt
Mashing with the salt makes an abrasive that helps to break down the garlic.  I slice the garlic cloves into smaller pieces so that they don't go shooting out of the pestle when I try to crush them.  You can use a garlic press for a shortcut.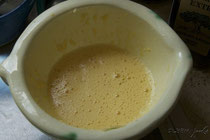 Blend in:
    2 egg yolks
    juice of ½ lemon
Traditionally, the mortar is the only tool you'll need, but I find it's easier to incorporate the air by using a whisk.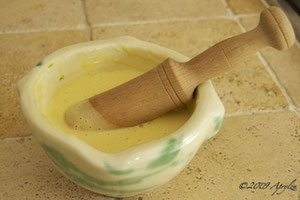 Gradually add:
    175 ml-250 ml ( ¾ to 1 C) olive oil

Adding too much oil too quickly will curdle the sauce.  If that happens, just keep beating away until it's smooth again, or strain out the extra oil and try again. 

Beat until the sauce is thick.  You may want to put the sauce in the fridge for a while if it's not thickening.

Season to taste.
If you're serving l'aiöli with grilled fish in the summer, you can't do better than accompanying it with a chilled rosé; dark meats can withstand a hearty red…sieste assured.
[You'll find more of my recipes here.]
Hot Stuff!
by
AprylZA
Many more
aprons
available online at zazzle.com