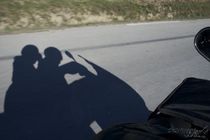 Don't let the photos fool you; the back roads of Provence are heart-warming any time of year.  The colors and lighting are different, and you'll want layers of leather instead of lightweight cottons and a pair of Rainbows.  But the history goes back thousands of years.

It's worth discovering the hidden places by open methods of transportation…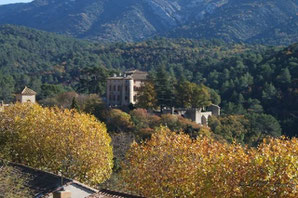 Taking the D-10 east from Aix-en-Provence, you'll pass through the commune of St Marc Jaumegarde and Vauvenargues.

The incredible atmosphere of this ride inspired my painting of the Château de Vauvenargues, the location of Pablo Picasso and his wife, Jacqueline's tomb, which is currently open for tours during the Picasso-Cézanne expo in the Musée Granet.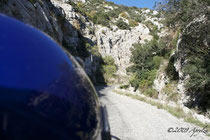 You'll find the tiny road to Jouques just after the village of Vauvenargues--the D-11.  The hairpin turns are quite thrilling…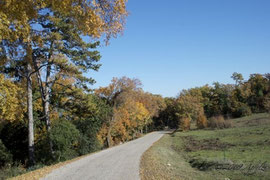 …with natural surroundings of great beauty, no matter the season…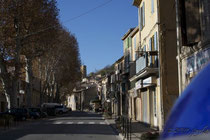 The road to the left will take you into Jouques…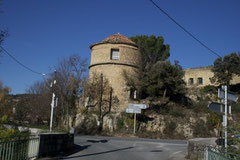 …the right goes in the direction of Rians…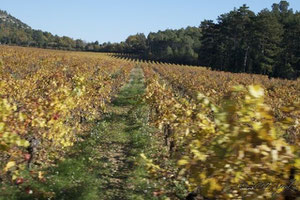 You're now on the D-561, or you should be, if you want to find the winery of Château Pigoudet.  There are many, many Coteaux d'Aix-en-Provence vineyards in this area, but I will certainly vouch for this one. 

Grapes have been grown in this region by the Greeks of Marseille for 7 centuries before the Christian era.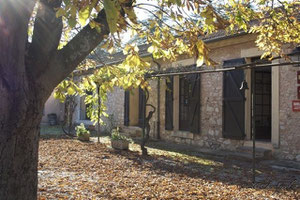 The brochure lists other notable details of the property:  ages-old cedars of Lebanon, majestic cypress, native oaks and sequoias; as well as an 8th century oratory.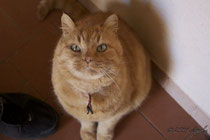 Rosés are the specialty here.  Ask the proprietor.
SCA Château Pigoudet
Route de Jouques
83560 Rians, France
e-mail: chateau.pigoudet@wanadoo.fr
tel 04 94 80 31 78
The Open Road
by
AprylZA
Browse more
Oil Posters
Bastide in Provence
by
AprylZA
Create a
custom stein
at Zazzle