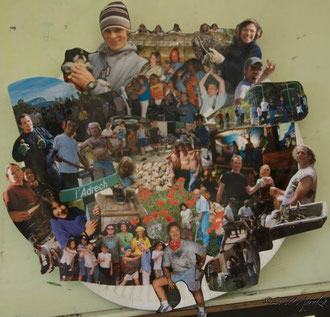 The final day of the week includes campers and their families in games and crafts, as well as a wrap-up drama and video presentation from the hundreds of photos taken during the week.
"God sets the lonely in families…"  Ps 68:6

More paints, paper & collage, this time it's parents included.  Encourage the families to talk about what's important to them, and then to create a picture together.  Watch for signs of stress in both children and adults, as control issues can really come into this.  In most cases, this is an edifying, loving project.  But as in all communities, moments of friction can ignite a bonfire.
Decorate anything you can get your hands on!  We'll be handing out white paper plates as a blank canvas.  This is an example of a photo collage commemorating the amazing fellowship we've had through creating this place.

Shalom.
And the video from Day 5 last year…