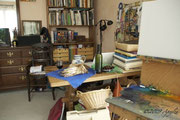 "Above all else, guard your heart, for it is the wellspring of life."  Prov 4:23

"No one can love who has not a heart."  L Frank Baum, the Wizard of Oz

"Man looks at the outward appearance, but the LORD looks at the heart."  1 Sam 16:7

"Where your treasure is, there your heart will be also."  Luke 12:34

Describe your childhood room in words or a sketch.  Was it a room in which you felt free to be yourself?  What was the best thing about that place?  Is there something in this memory that you still love?  If not, then was there a place that you could go to be alone?  What was it that drew you in?
What's your favorite thing about your current bedroom?  Anything?  What can you do to add something you cherish?  Let it be the first thing you see before you sleep.  (Okay, so this is idolatry.  But you must become aware of what warms your heart.)

"Let love and faithfulness never leave you;
Bind them around your neck; write them on the tablet of your heart.
Then you will win favor and a good name in the sight of God and man.
Trust in the LORD with all your heart, and lean not on your own understanding.
In all your ways acknowledge Him, and He will make your paths straight."  Prov 3:3-6

Have you noticed how much the Bible talks about the heart?  Did you experience this in your religious upbringing?

"Your Word I have treasured in my heart, that I may not sin against You."  Ps 119:11, NASB

"These people honor me with their lips, but their hearts are far from Me."  Matt 15:8

"For the eyes of the LORD range throughout the earth to strengthen those whose hearts are fully committed to Him."  2 Chron 16:9

"All man's ways seem right to him, but the LORD weighs the heart."  Prov 21:2

"Love the LORD your God with all your heart, and with all your soul, and with all your strength."  Deut 6:5
    Jesus called this the greatest of all the commandments.  Notice that the heart comes first.

"Blessed are the pure in heart, for they will see God."  Matt 5:8
    This relates directly to Ps 51.  It is God who cleanses when we ask.

"Which of you, if his son asks for bread, will give him a stone?"  Matt 7:9
    When you step out in faith, He makes the paths straight.  Never doubt the possibilities, because then you'd doubt your faith. He is teaching you to hear His guiding voice along the way.  Breaking your old self-indulgent habits will be painful at times.  Those old wineskins are going to be stretched to bursting. (Matt 9:17)

Giving and receiving are meant to be the same thing.

"Give, and it will be given to you. A good measure, pressed down, shaken together and running over, will be poured into your lap. For with the measure you use, it will be measured to you."  Luke 6:38

"Therefore, I urge you, brothers, in view of God's mercy, to offer your bodies as living sacrifices, holy and pleasing to God—this is your spiritual act of worship.  Do not conform any longer to the pattern of this world, but be transformed by the renewing of your mind.  Then you will be able to test and approve what God's will is—His good, pleasing and perfect will."  Rom 12:1-2


[the Source begins here]