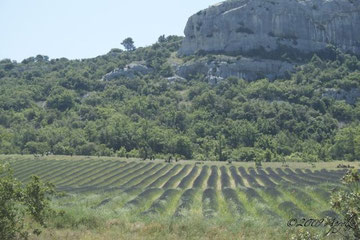 Thankfully, 'highway' doesn't refer to the size of the road, but the altitude.  Lavender flourishes on the rocky, sun drenched fields about 300m.  The roads are tiny, and streaming with international visitors.  They've all come to see the lavender in full bloom from mid-June to the end of July, and no one leaves disappointed.
Is it the natural aromatherapy?  The feast for the senses?
Photos don't do justice, but I like to try…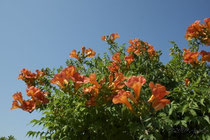 I like to start our tour at the lavender museum of le Château du Bois in Coustellet. 
Leaving the Autoroute at Cavaillon, take the D-2 directly to Coustellet.  They're open 7 days/week from 9h-12h and 14h-18h.  The short video presentation explains how the plants are cultivated, and the oils extracted for their products.  The centuries-old process is documented with antique equiptment and details in French and English. 
Yes, there's a gift shop at the end.  I'm not a souvenir shop fan, but these are quality products and worth further discovery.  Maybe it's that aromatherapy working on me…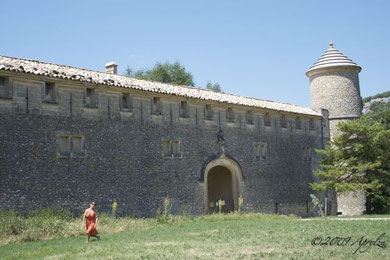 Take your roadmap into the lavender museum, and ask the receptionist to point out the best roads to take to see the lavender fields.  Don't worry too much if you happen to lose your way, it's all beautiful, and you may stumble over a distant château.
This is Javon, on the D-943. 
It's a private château, and does not welcome castle-storming.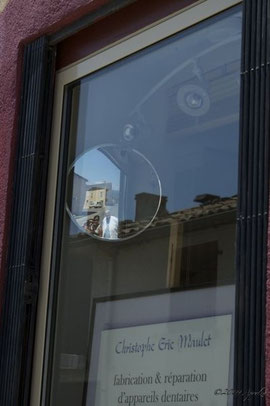 The key to any adventure is that you have to look for it.  It will come to you, but you need to recognize it.
Elaine and I were impressed by the dental mirror, and used it to our advantage.  We didn't expect to meet M. Maulet on his return from lunch.  It was a delightfully serendipitous meeting, and a kind welcome to St-Saturnin-lès-Apt. 
More views…
Cabanon dans la lavande
by
AprylZA
See the other
art
on zazzle.com
Lavender Rows
by
AprylZA
Make your own travel mugs
on zazzle