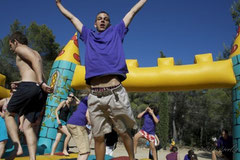 "Do you not know?  Have you not heard?
The LORD is the everlasting God, the Creator of the ends of the earth.
He will not grow tired or weary, and His understanding no one can fathom.
He gives strength to the weary and increases the power of the weak.
Even youths grow tired and weary, and young men stumble and fall;
But those who hope in the LORD will renew their strength.
They will soar on wings like eagles;
They will run and not grow weary, they will walk and not be faint."  Is 40:28-31

What does it take for one to soar as eagles? How does one sprout wings?  Soaring happens after a period of slow, steady growth, not by the occasional desperate leap.  It takes practice to recognize and overcome the obstacles.  It begins with awareness.  The journal is a good place to confront them.
Substantial work happens on the ground, so don't wait for a mountaintop experience.  You'll get an occasional glimpse of heaven, and although it's awe-inspiring when it does happen, it's usually abandoned shortly after you return to the teeming masses.  Not that you intended to ever forget….

The prophet Isaiah told us we'd be weary, and more often than not.  Expect it.  Learn when and how to seek refreshment along the way.  This is why Jesus said that He was the 'living water'.  Everything else is just a substitute.

Humility is a reminder that we are always tempted to heal ourselves, when reality proves that we can't.

Give yourself permission to believe in a God who is bigger than life.  If your God is too small, He will never have the power to help you overcome your lesser gods.

Get to know a God who can perform miracles.  Study the life of Jesus by reading about Him in the gospels (that's Matthew, Mark, Luke and John.)

Look for a God can understand your guilt, shame and resentment.

Turn to a God who will redeem you.  If you don't accept the Savior, you will constantly try to become your own or cling to a faulty human source.  Many of our besetting sins are crude efforts at self-sacrifice and self-redemption…  All of these redemption roles violate the fundamental spiritual principle that we cannot function as our own redeemer.  There is only one true Redeemer who can pay the price for our sins, and that is Jesus Christ.  Redemption comes only through accepting His sacrifice.  Through this we can be freed from our false shame and find the true personality God created for us.

"The truth dazzles gradually, or else the world would be blind."  Emily Dickenson

Everything you love is what makes a life worth living.  This is a passionate life.

Set aside one hour for this project.  For the first half-hour, gather images (photos, magazine clippings, drawings) that really speak to you, but don't stop to think about why or how.  For the second half-hour, trim and paste these images onto a poster board.  You are making a self-portrait.  Sign and date it.  Now, write a description of what you see.  Can you identify a life's desire?


[the Source begins here]