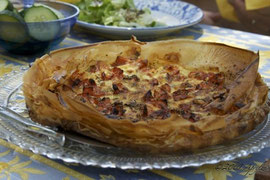 This is the stuff French picnics are made of!  The variations are endless, and it's another magical transformation of the mustgoes.

This example features fresh tomatoes and goat cheese.  The famous Quiche Lorraine includes Swiss cheese, bacon and spinach.  Another favorite is smoked salmon and sautéed leeks.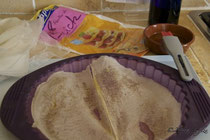 Prepare the crust:  the simplest method is to open the packet of readymade, although it's so easy to combine bread or cracker crumbs with melted butter.  I used the local equivalent of Greek filo dough, brushing each layer with olive oil.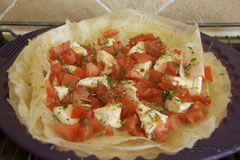 Cover the crust with about 150g (1 C) shredded cheese

Top with a combination of about 250 g (2 C) vegetables and meat, if you're using it.  This is a great way to use up your Mustgoes and other back-of-the-fridge items.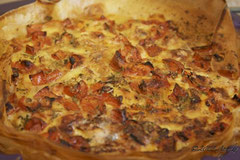 Blend together:
    3-4 eggs
    1 t mustard, if desired
    225-350ml (1 to 1 ½ C) milk

Pour over quiche, and sprinkle with herbs, salt & pepper.

Bake 185°C (375°F) for about 40 minutes.


[More recipes here.]
Still LIfe with Asparagus & Lemon
by
AprylZA
View other
artwork
at zazzle.com