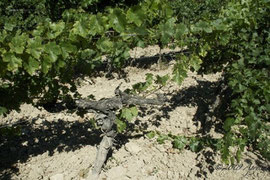 "What more can be said, what greater case could be made than this:  to find YHWH, you must seek with all your heart.  To remain present to God, you must remain present to your heart.  To hear His voice, you must listen with your heart.  To love Him, you must love with all your heart.  You cannot be the person YHWH meant you to be, and you cannot live the life He meant you to live, unless you live from the heart.
    "How deep are your relationships with others today?  Do you have enough time for connection?  What does your answer say about what you think the point of all living is?" from John Eldredge, Waking the Dead

What is this thing they call 'abiding,' as in John 15:1-17?

Where's the boundary between asking YHWH to change you, then sitting back and waiting for Him to do it all, or doing it all through your own steely determination?  You know that you can't and He can, so what's He waiting for?
He's waiting for you to trust His guidance.  Peter had to step out of the boat.  Naaman had to get himself into the Jordan River to be healed.  The paralytic had to pick up his mat.  We're not puppets on a string.

This process also involves self-awareness.  He can heal you before you realize you're sick, but He doesn't work that way.  How else could you so effectively reach out to other wounded souls if you didn't understand the intensity that overtakes someone in their own weakness?

Oswald Chamber's definition, "The use of the Bible term heart is best understood by simply saying 'me'."  That's the real you, not the working copy.

Christ did not die for an idea.  He died for a person, and that person is you.

"The Spirit of the Sovereign LORD is on Me,
because the LORD has anointed me to preach good news to the poor.
He has sent me to bind up the brokenhearted,
    To proclaim release for the captives
    And release from darkness for the prisoners."  Isa 61:1

Yeshua, the name of Jesus in its Hebrew form means 'YHWH saves.'  The Hebrew root 'yasha' means to rescue or remove someone from burden, oppression or danger.  (Joshua is the Latin name.)

Where is your heart at the moment?  Is it captive or free?

"Songs should express joy.  But too much sorrow oppresses my soul to let me sing.  Alas, I came into this world too late."  Alfonso X of Castile (1221-1284)

Have shame and criticism wounded you beyond recognition?  Do you carry a burden or guilt?  Guilt is often a tactic for manipulation.  It may be effective in the short-term, but over time, it is as highly destructive force as a glacier.

It is only the power of YHWH — perfect goodness and love — that can turn negative into positive.

Name five characteristics that you liked about your childhood self.  How old were you in your memories?  Was it one particular age or several?
    List five childhood accomplishments (top grades, trained the dog, out-maneuvered the class bully, short-sheeted the counselor's bed).  And a treat:  list 5 favorite childhood foods.  Give yourself one of them this week.  Yes, this is permission to eat Spaghetti-Os.  And you'll be amazed what recipes are available on the Internet!

[the Source begins here]