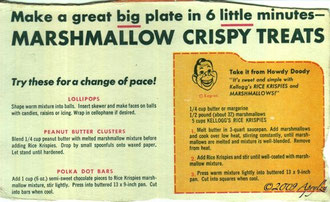 I never would've guessed that this killer-sugary confection would be such a hit in France.  Since then, I'm reminded that the French also eat up Jerry Lewis, I maybe shouldn't be so surprised after all.

My grandmother used to make batches of these, and freeze them until the youngsters came around.  I don't remember ever really liking them, but they were perfect to share.  This was a popular commodity while I was in University, and I'm sure I managed some equitable late-night snack trades.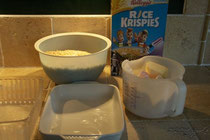 I make these in a larger pan than the original recipe calls for of 13" x 9", because the modern equivalent packages make a larger quantity. 

Be sure to generously butter your pans, and your hands.  You'll be glad you did, these are sticky as all git out!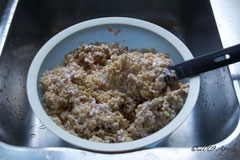 Melt in saucepan:  175 g butter

Add and gently melt, stirring constantly:  300 g marshmallows

Or you can combine the butter & marshmallows in a covered microwavable container, and zap for 2 minutes at 500W.  Mix well, and MW at additional 30 second intervals as needed until melted and cohesive.

When the mixture is smooth, pour into a large bowl over:

375 g Rice Crispy cereal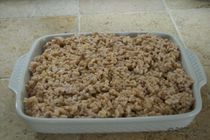 Stir (with a silicon spatula or a buttered spoon) until the cereal is well coated an evenly mixed.  Press the mixture into greased pans.  Chill until firm.