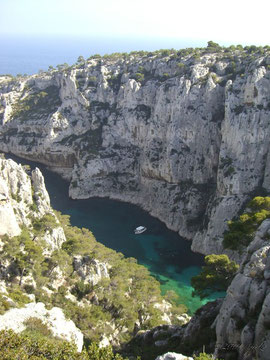 It's difficult to find words that express such breathtaking beauty.  That may have something to do with lack of oxygen that accompanies having ones breath taken away, but in this case, the tongue can hardly express the wonder of nature.
There are roughly 20km (12,5 miles) of jagged coastline between Marseille and Cassis, and you can join a 4-hour, guided boating tour from either port.
For the rugged adventurer, this is an opportunity for marvelous hiking.  Be aware that the area is protected against the high risk of forest fires, so access is restricted during the summer months.  Phone for details:  08 11 20 13 13 or check their website: http://jetsms.jetmultimedia.fr/cdt13/CDT13info.html
The path to L'En-Vau is well marked, although I admit that I like to take the centuries' old route straight down over the side.  The limestone cliffs are as smooth as polished marble from the passage of the generations.  Knowing the handholds, I find it much easier than the new and approved trail of sharp rocks and sliding scree.  Like most of the locals, I say a prayer, and hope I don't get caught…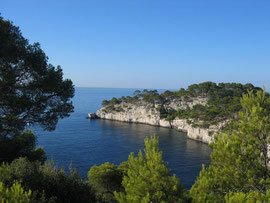 Get there early, and you can slip into a space at le Port-Miou.  Be warned that it often is a first in, last out situation.  You'll be glad for your scooter, if that's your choice of travel.  Otherwise, the parking at Cap Canille is cheap and dependable, and not that much farther away.
As you walk past the cliffs at Port-Miou, notice that the walls were quarried since the time of the Phoenicians.  These stones form the base of the oldest part of Marseille, and the St Victor church near the vieux port.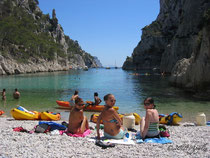 Off you go, then, and bon courage to you!  Take plenty of water and a picnic.  You'll have something to celebrate when you arrive… provided you make it that far.  Many have been satisfied with Port-Pin, and I leave it to them.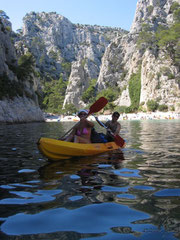 If hiking is off-limits, you might consider kayaking from the port of Cassis.  On a hot day, this is about as much fun as anyone can have in a life vest.  It takes about 45-minutes of enthusiastic paddling, which can involve much refreshing splashes with your shipmates.
Reserve 1, 2 or 3-person kayaks from Club Sports Loisirs Nautiques, place Montmorin, Cassis; telephone: 04 42 01 80 01.  Prices, for example, a 2-person kayak for 4-hrs at €40; €65 for the whole day.
Gr8 new discovery!  http://www.cassis-kayak.fr/ on Port Miou cuts that kayak workout to 20-minutes into L'En Vau, which means you have that much more time to spend playing.  And you can reserve online!
Here is some of my work inspired by these great escapes…