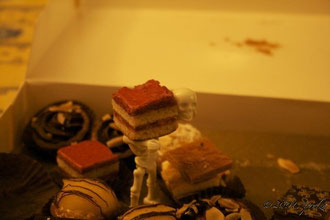 "Real friends are those who, when you feel you've made a fool of yourself, don't feel you've done a permanent job."

"Sometimes the majority only means that all the fools are on the same side."

"I don't have to attend every argument I'm invited to."

"Lead your life so you won't be ashamed to sell the family parrot to the town gossip."
"Life is 10% of what happens to you, and 90% of how you respond to it."

"Life is like an onion; you peel off one layer at a time and sometimes you weep."

"Learn from the mistakes of others. You can't live long enough to make them all yourself."

Beguiling ideas about science quoted here were gleaned from essays, exams, and classroom discussions. Most were from 5th and 6th graders. They illustrate Mark Twain's contention that the 'most interesting information comes from children, for they tell all they know and then stop.'

You can listen to thunder after lightning and tell how close you came to
being struck. If you don't hear it you got hit, so never mind.

Rainbows are just to look at, not to really understand.

South America has cold summers and hot winters, but somehow they still manage.

Most books now say our sun is a star. But it still knows how to change back into a sun in the daytime.

Water freezes at 32 degrees and boils at 212 degrees. There are 180 degrees
between freezing and boiling because there are 180 degrees between north and south.

Some people can tell what time it is by looking at the sun. But I have never been able to make out the numbers.

In looking at a drop of water under a microscope, we find there are twice as
many H's as O's.

Clouds are high flying fogs.

I am not sure how clouds get formed. But the clouds know how to do it, and that is the important thing.

Clouds just keep circling the earth around and around. And around. There is not much else to do.

Water vapor gets together in a cloud. When it is big enough to be called a
drop, it does.

Humidity is the experience of looking for air and finding water. We keep
track of the humidity in the air so we won't drown when we breathe.

Rain is saved up in cloud banks.

A blizzard is when it snows sideways.

Thunder is a rich source of loudness.

Isotherms and isobars are even more important than their names sound.

The wind is like the air, only pushier.