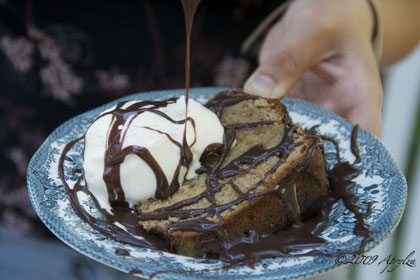 Got an excuse to celebrate?  Want to prove that American cuisine is deliciously delightful?  Try this!
Peanut Butter Cake
Preheat oven to 180°C (350°F)
Cream together:
250 g (1 C) peanut butter
125 g (1/2 C) butter
175 g (1 C) sugar
Blend in:
3 eggs
1/2 T vanilla (or flavored liquor)
Sift together:
275 g (2-1/4 C) flour
2 t baking powder
1/2 t salt
Gradually add to batter with: 225 ml (1 C) milk
beginning & ending with dry ingredients.
Spread in a greased & floured--or silicone--baking pan.
Bake 180°C (350°F) for about 50 minutes, until a knife blade comes out clean.
While the cake is baking, prepare your vanilla ice cream; then…
Hot Fudge Sauce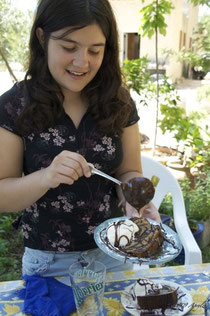 Cook over a double-boiler until thick:
400 g (1 can) sweetened condensed milk
150 g (1 C) best-quality baking chocolate (OR 3 T cocoa + 3 T butter)
OR microwave medium-power for 2 mintues, stir; cook additional 30 seconds until smooth.
Stir in:
1/2 t vanilla
1/2 t salt
thin with hot water as desired.
Hot Stuff!
by
AprylZA
Make
aprons
on zazzle