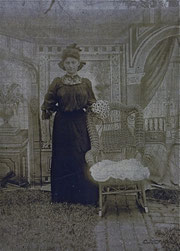 What is this yearning for a better life?  Why would you want transformation? Haven't you tried cleaning up your act, and it's only gotten you into trouble?  Maybe you're just fed up with the religious rhetoric that's been keeping you in line.  Are you looking for time off for good behavior, or is there something more?  What's the whole point of inner transformation to change external behaviors?  Why bother?
Change creates Crisis, the classic symptom of living by "action-reaction."  It's culture shock without ever leaving home.  Your body doesn't know what to do with itself.  How does one overthrow the local dictator?
 "There is a certain relief in change, even though it be from bad to worse.  I have found in traveling in a stagecoach, that it is often a comfort to shift one's position and be bruised in a new place."  Washington Irving
"I will give you a new heart and put a new spirit in you; I will remove from you your heart of stone and give you a heart of flesh.  And I will put My Spirit in you and move you to follow My decrees and be careful to keep My laws."  Eze 36:26-27
Why is the Beauty and the Beast story a timeless classic?  Simply because we really do long for love to triumph, releasing all the beauty and goodness from the tyrannical beast!  Why does it always involve a life and death struggle?
It's the Transformation.  It's mysterious.  Magical!  Supernatural.
The phoenix rises from the ashes, as does Cinderella.  Pinocchio becomes a real boy.  Dorothy and her friends risk fear, ignorance and isolation to seek the Wizard.  Charlie takes a great glass elevator.  Alice follows a rabbit, and James reaches for the giant peach.  They all find themselves resolved into a life of which they'd never dared hope.
What movies or stories have really spoken to you?  Have you ever thought about why?  What's your story?
What did Jesus really mean when He said, "You must be born again."  (John 3:7)  That it's your turn to be transformed.
"But we have this treasure in jars of clay to show that this all-surpassing power is from God and not from us.  We are hard pressed on every side, but not crushed; perplexed, but not in despair; persecuted, but not abandoned; struck down, but not destroyed.  We always carry around in our body the death of Jesus, so that the life of Jesus may also be revealed in our body.  For we who are alive are always being given over to death for Jesus' sake, so that His life may be revealed in our mortal body.  So then, death is at work in us, but life is at work in you."  2 Cor 4:7-12
TIME TRAVEL
         Forward:  Interview anyone in his or her eighties.  Ask them what has been most memorable about their time in this world thus far.  What's important to them now?  What are they glad they did, what do they wish they had done?  Is there any quality in their lives that you'd like to see in your own?  Now, write a letter from yourself at eighty to your current age.  What would you tell yourself?  What interests would you urge yourself to pursue?  What dreams would you encourage?
         Back:  Ask an 8-year old what maters.  What do they want to do as soon as they are able?  Remember yourself at eight.  What did you like to do?  What were your favorite things?  Now, write a letter from you at age eight to you today.  What would you tell yourself?