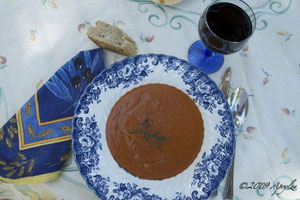 This is absolutely perfect for those days when it's too hot to think about being in the kitchen.  Prepare it in the cool of the morning, and pull it out of the fridge when you're ready for lunch.  Fantastic!
Serves 6-8 as a starter; 4 as a main course.
Purée in blender or food processor:
I do this in 2 batches, and then combine it in the covered serving bowl, so I'm listing the ingredients in the order I puree them:
         650 g fresh cored & seeded tomatoes (or 400g canned)
         400 g jar roasted red peppers
         1 crushed clove garlic
         50 g fresh white breadcrumbs
         1 t caster sugar
         400 g cantaloupe melon, halved, seeded, skinned & chopped
         300 g cucumber, seeded & chopped
         1/4 C red wine vinegar
         150 ml (1/2 C + 2 T) extra-virgin olive oil
         S & P to taste
Chill until hungry.  Serve with assorted garnishes of:
         crème fraîche                        diced fresh capsicum peppers
         diced tomato                         chopped fresh tarragon or basil
         diced cucumber                     garlic croutons
         toasted almonds, pigñoli or cashews
Here's a tip for your first visit to a French bistro or family home:  if you can see that the establishment prides themselves on their clean table linens, you honor them by placing your bread right on the cloth.  Bon app!
the Mediterranean Chef
by
AprylZA
Browse other
Italian Aprons